Jacob L. Grimm and Wilhelm K. Grimm
(4 January 1785 - 20 September 1863)
(24 February 1786 - 16 December 1859)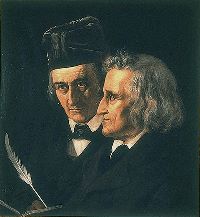 The Grimm Brothers, or more commonly "The Brothers Grimm", are known the world over for their collection of folklore and stories they collected and published. They took the tales from many countries and made them accessible for both children and adults to enjoy for centuries.
The brothers were born 13 months apart in Hanau, Germany. Jacob Ludwig Carl Grimm was born on 4 January, 1785, and Wilhelm Carl Grimm was born 24 February, 1786. The brothers had very different personalities. Jacob was introspective and quiet while Wilhelm was outgoing. They both had a strong work ethic, though, and were very close. They began studying at the Friedrichsgymnasium in Kassel, and despite their low social status, graduated at the head of their classes: Jacob in 1803 and Wilhelm in 1804. After graduating from there, they continued studying at Marburg University, intending to become lawyers, as their father had been (he passed away while they were still in Kassel). They attended lectures and studied legal science, but it did not hold their interest, and they found themselves more drawn to the study of German and foreign literature.
One of their law professors was Friedrich von Savigny, and it was he who really sparked their interested in history and pushed them toward studying medieval German literature. Like Savigny, the brothers wanted the 200 principalities of Germany join into a single, united state, and through him, they were introduced to several German romantic authors of the time, like Ludwig Achim von Arnim and Clemens Brentano. They were also inspired by the ideas of Johann Gottfried Herder, who wanted German authors to return to more natural language in their literature. Putting aside law, the brothers devoted themselves to studying Old German and literature.
Jacob was appointed as court librarian to the King of Westphalia in 1808, then after that became the librarian in Kassel. When the brothers' mother died in 1808, Jacob took on the full responsibility for his younger siblings. He paid for one of his brothers, Ludwig, to study at an art school while also making it possible for Wilhelm to visit their brother Halle, who was getting treatment for illnesses. After that, Wilhelm reunited with his brother Jacob in Kassel, also becoming a librarian there. It was during this time that they began collecting folk tales at the suggestion of Brentano.
Although the job as librarians paid them little, it did give them plenty of time for research, and they became very productive in publishing. In 1812, their first collection of folk tales, Kinder- und Hausmärchen (Children's and Household Tales), was released. More books of German legends followed. The brothers also expanded their research and published works with Danish, Irish and Norse tales. These various works became widely acclaimed and earned them honorary doctorates from universities in Marburg, Berlin and Breslau.
Wilhelm married Henriette Dorothea Wild in 1825, but Jacob never married. All three continued living together. However, they were constantly overlooked at being promoted as chief librarians in Kassel, so they moved to Göttingen in 1830. Both became professors there while Jacob also became head librarian.
For the next seven years, the brothers continued researching and publishing. Deutsche Mythologie (German Mythology) was published by Jacob in 1835 and Wilhelm continued work on a third edition of Kinder- und Hausmärchen. As professors, they established the field of German studies at the university. In 1838, they began work on a definitive German dictionary, Deutsches Wörterbuch. While it is not as well known as their other publications, it was a monumental scholarly work, for it gave a history and analysis of each word.
After the Revolutions of 1848 in the German states, the brothers were elected to the civil parliament, but their hopes for a unified Germany died, and Jacob eventually resigned his university position. Wilhelm continued at the university until he also retired in 1852. They continued work on the German dictionary, publishing it in installments. After Wilhelm died of an infection in 1859, Jacob largely withdrew from society. He died in 1863, still working on the dictionary.
Perhaps of greater importance to languages than their publishing of the tales is the way in which they approached it. While at Marburg, they recognized that culture and language are tied together, and they regarded the purest cultural expression as being in the grammar of a language. Unlike other contemporary writers, who often changed the original oral style of stories to fit a more modern style, they attempted to publish their tales without losing the original traits of the oral language.