Edward Sapir was one of the foremost American linguists and anthropologists of his time, making major contributions to the study of American Indian languages and people as well as ethnolinguistics.
His name is probably most known in association with the Sapir-Whorf Hypothesis. He was a founder of ethnolinguistics, which is the study of the relationship between culture and language. Among anthropologists, he is probably most known for his work in the classification of Native American Indians. During his lifetime, he was a prolific publisher of materials in a few different fields that are still studied today.
His Life

Edward Sapir was born in 1884 in Lauenburg, Germany. His parents were both Lithuanian Jews, and while he learned German as a child, the language in his home was Yiddish. However, since his father, Jacob, preferred music to theology, the family was not strictly orthodox in their religious observance.
The family moved many times during Sapir's early childhood. He started kindergarten in Liverpool, England, then his family emigrated to the United States when he was five and they arrived in Richmond, Virginia in 1890. Tragically, Sapir's younger brother Max died of typhoid shortly afterwards. Then while Jacob's career declined into a series of short-term appointments, the family moved to the Lower East Side of New York City when Edward was ten. Eva Sapir ran a small shop to support herself and young Edward after she and Jacob divorced sometime after 1910.
When he was fourteen, Sapir won a Pulitzer scholarship for four years at Horace Mann High School, which was and still is one of the top college-preparatory high schools in New York, but he turned it down, choosing a local high school instead and using the scholarship for his undergraduate education at Columbia University. After starting at Columbia in 1901, Sapir focused on Germanic philology (the study of literary texts and written records) while getting formal training in Indo-European linguistics. He received a B.A. in German in 1904 after having taken only three years to complete the four-year program, then he received his M.A., also in German, in 1905. He took two more years of courses in anthropology and German, receiving his Ph.D. in anthropology in 1909 with a dissertation on the Takelma language of southwestern Oregon.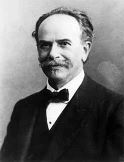 Franz Boas
Sapir had a knack for languages, but since Columbia had no true department of linguistics, Germanics was the field of choice for a student interested in linguistic science. While there, Sapir met and began to study with Franz Boas and was inspired into the need to record endangered American Indian languages before they were lost forever. In 1905, Boas sent him to the Yakima Reservation in Washington to do fieldwork on the Wishram dialect of Chinook, and then to Oregon, to work on Takelma. Sapir worked on Takelma and Chasta Costa at Siletz Reservation in Oregon in 1906, then from 1907-1908 he was a research associate in anthropology at the University of California, where he worked on Yana. He spent two years at the University of Pennsylvania in Philadelphia after that, first as a professor and then as an instructor. When Sapir submitted his description of Takelma as a dissertation to Boas at Columbia in 1909, he was awarded a doctorate.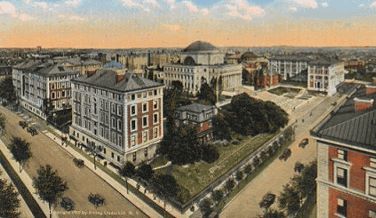 Columbia University in New York in 1915
In 1910, he was hired to head the newly established division of anthropology in the Geological Survey of the Canadian National Museum, and while he was initially excited about this opportunity, he soon became disappointed and complained about the isolation of life in Ottawa. He did fieldwork on a large number of languages, including Nootka and Sarcee, and he published much in a number of areas. His Takelma grammar was published in 1922 in the second volume of the Handbook of American Indian Languages.
While in Ottawa, his first wife suffered a series of mental and physical illnesses from which she finally died. To add to his pain, Sapir's efforts to develop anthropological research on the natives of Canada were largely halted by the financial requirements of the First World War. The money just wasn't available and he became increasingly despondent and isolated. This led Sapir to devote a large amount of his time to poetry and music, as well as the writing of many literary reviews.
Between 1917 and the early 1930s, he was a major contributor to The Dial, which was one of the most important American literary journals at the time. He was also a writer for other journals such as The Freeman, Poetry, The New Republic, The Nation, and others. Many of the topics that he wrote about in his nonacademic writing also appeared in his work in anthropology and he became increasingly interested in questions of psychiatry and the nature of personality, particularly in the relationship between personality and culture.
When In 1925 Sapir was offered a position at the University of Chicago, he accepted happily. There, he had many students and in a short time, he became a major figure in American anthropology. He continued to do fieldwork on several languages, such as Navajo and Hupa, and he had the chance to do many of the things he had missed while in Ottawa. He eagerly joined in interdisciplinary conferences, and had a notable collaboration with international psychiatrist Harry Stack Sullivan and political scientist Harold D. Lasswell. Since he was teaching in the social sciences, Sapir found himself thinking a lot about culture, psychology and social science methodology. For a while, he continued to write poetry, but the pressure of other work finally left him little time for anything besides his professional obligations. During this period, however, he did not stop his linguistic work, and even managed to make field trips to study Navajo and Hupa.
Shortly after he arrived in Chicago, Sapir renewed a friendship with Jean McClenaghan, now a social work student on a practicum at the Chicago Institute for Juvenile Research, and the couple was married in 1927. They would eventually have two children.
Sapir grew tired of the amount of administrative work required of him at Chicago, and so he accepted a very attractive offer for a Sterling Professorship at Yale in 1931. While at Yale, he again attracted numerous students, including many that had followed him from Chicago.
Many of his plans in Yale were undermined by local academic politics, by the economic effects of the Depression, and by feelings of anti-Semitism at Yale, and Sapir became drained and unhappy. Outside of Yale, he continued with his interdisciplinary activities, while in it he focused on his own teaching in anthropology and linguistics. It was too much.
In 1937, while he was teaching at the Linguistic Society of America Summer Institute in Ann Arbor, Michigan, Sapir suffered a heart attack. A sabbatical to China in 1937 had to be cancelled because of his health, and while he did he return to teaching in the fall of 1938, he had not recovered his strength. He finally died in 1939 of heart disease at the age of fifty-five.