Carnival is a celebration that is best known for its participants dancing in elaborate and revealing costumes. This festival is often wildly extravagant and full of suggestive eroticism, taking place in some kind of parade which is more like a circus and street party combined. These celebrations can last for days or even weeks, and are celebrated differently all over the world. Given such a description, it is odd to think that it is a tradition of the normally conservative Catholic religion.
History
Carnival probably originated as a pagan festival in ancient Egypt. The Greeks and Romans may have adopted it for themselves, in the forms of the Roman festivals Lupercalia and Saturnalia and the Greek festival of Dionysia. When the Romans adopted Christianity during the first millennium, they did not want to give up their pagan festival, so they looked for a a way to incorporate it into their new religion.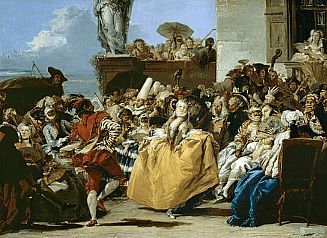 Painting of Carnival celebration in medieval times
In the Catholic tradition, there is a period of forty days before Jesus' death on Good Friday, called Lent. It begins on Ash Wednesday, which usually occurs in February. During Lent, Catholics are not supposed to eat meat as a reminder of Jesus' sacrifice. Since it is a period of sacrifice, it seemed a good idea to have a large celebration before this reflective time, so a new tradition of eating all the meat in the house as well as having a wild costume festival right before the start of Lent was begun. The name "Carnival" was given to this celebration from the Latin term "carne levare" which translates to "to remove meat".
Over time, the festivals grew in size and popularity, and the practice spread to Spain, France, and other Catholic countries of Europe. When these Europeans invaded the Americas and established colonies, the tradition came with them. Brazil, which was once a Portuguese colony, is famous for its Carnival. Now, Carnival celebrations are found throughout the Caribbean in Barbados, Jamaica, Grenada, Dominica, Haiti, Cuba, St. Thomas and St. Marten. They can also be found in Central and South America in Belize, Panama and Brazil. Even large cities in Canada and the United States where Caribbean people have settled enjoy Carnival. These cities include Brooklyn, Miami, Toronto and San Francisco.
Brazil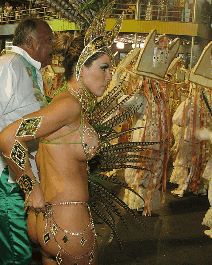 Samba dancer in costume in Rio de Janeiro, Brazil
Perhaps the best known Carnival celebration is the one that takes place in Brazil, where it is more commonly called Carnaval. There, it is generally a six-day party of dancing and singing. Some places have official parades just for watching, while smaller ones are held for people to interact with. Each region has its own particular style and may even specialize in the dance and music they use. Carnival has become the most famous holiday in Brazil and during this time, almost the entire country shuts down to participate. The festivities often continue all day and night and draw in millions of people, even hundreds of thousands of tourists.
If Brazil is the best known country for Carnival, then Rio de Janeiro is the best known city for the festival, where it is considered to be the world's biggest and best party. At the heart of the celebration are the samba schools, with each of these social clubs named after famous Brazilian samba dance style. Each one is based in a different neighborhood of Rio de Janeiro, and there is a fierce rivalry between them. Throughout the entire year, members work to create the best costumes, themes, floats and dance performances. During Carnival, each school participates in a parade in the Sambadrome, which is a large building for holding thousands of spectators. There are several Sambadromes all over Brazil.
These parades date back to the 1920s, with the festivities becoming more grand each year. All of the dancers wear spectacular costumes of sequins and feathers that manage to be both eye catching and revealing at the same time. Millions of people also party throughout the city, often dressing in their own exotic costumes and makeup.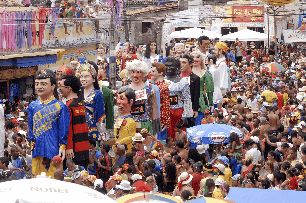 Parade with giant dolls in Pernambuco, Brazil
Street Carnival Bands, called "Blocos de Rua", have also become a major part of Rio's Carnival. There are over 400 of these groups, and they are usually formed by groups of partiers, adopting their own titles which may be puns or identifiers of their neighborhood. They may travel around the city or remain in their own block of the city the entire time. These bands often compose their own music as well as perform classic and popular songs.
While Rio had the most famous of Carnival festivals, the city of Recife in Pernambuco has the biggest carnival parade in the world, Galo da Madrugada, based upon the number of participants. The name means "dawn's rooster" and it is only held in the morning. The celebration is guided by two main musical rhythms: the Frevo, which is influenced by African dances and acrobatics, and is fast and electrifying, often involving the use of an open umbrella, and the Maracatu, which actually embraces two styles, each being heavily influenced by African beats and styles. The groups dance and play music together, rather than competing like Rio. Giant dancing dolls are also a part of the parade.
Italy
The festivities often continue all day and night and draw in millions of people, even hundreds of thousands of tourists.
In Italy, the official Carnival date is Shrove Tuesday, the day before Ash Wednesday, but is celebrated for two to three weeks before it. It is the biggest festival in Italy, and is celebrated in all parts of the country. Besides parades, there are numerous other kinds of entertainment, masquerade balls and parties. The Carnival of Venice, in particular, has been around since the 12th century. It differs greatly from the Brazilian dance contests, with masks being at the heart of it.
It is believed that the Carnival of Venice was started when the "Repubblica della Serenissima", Venice's former name, defeated Ulrico, Patriarch of Aquileia, in 1162. To celebrate, the people began a tradition of slaughtering twelve pigs and a bull in the Piazza San Marco to remember the victory. This expanded over the decades and became an official festival during the Renaissance in the 14th century.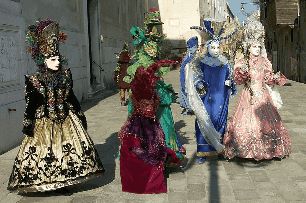 People dressed in full costume with masks in Venice
The first documented date of using masks as part of the celebration is 1268. The reason for adopting masks is unsure, but one idea may have been to remove all social division among people. They may also have been used as a way to protect the wearer's identity when performing decadent acts. There are a number of distinctive mask styles, normally made from papier-mache and decorated with gems, fur and fabrics. On the last weekend of Carnival, a contest is held and a panel of international costume and fashion designers vote for "La Maschera più bella" ("The most beautiful mask").