Famed Danish linguist Otto Jespersen worked all his life not only in linguistics but also in reforms of language teaching, phonetic transcription and an international language. He is considered to be one of the most famous linguists.
His Life

Otto Jespersen
Jens Otto Harry Jespersen was born on 16 July, 1860, in the town of Randers in Jutland, Denmark. His father was a district judge and his mother was the daughter of the clergyman. When his father died in 1870, Jespersen and his family moved to Hillerød, Northern Zealand.
Young Jespersen was inspired by the work of Danish linguist Rasmus Rask, who had mastered over twenty-five languages and dialects, and so while he attended the public school of Frederiksborg, he taught himself some Icelandic, Italian, and Spanish using Rask's grammars guides. In 1877, at the age of 17, Jespersen entered the University of Copenhagen, where he initially studied law, as his father, grandfather and great-grandfather had done. In his spare time, he studied French, Italian, Spanish and English literature. He also worked part-time as a lower secondary school teacher and a shorthand reporter in the Danish parliament to support himself.
In 1881, Jespersen stopped studying and turned all his attention to languages. He began attending lectures on phonetics by the Danish linguist Vilhelm Thomsen, who became his mentor, as well as taking classes in Old and Modern French. He also developed interests in English and German.
His first publication was a review in the Nordisk Tidsskrift for Filologi (Nordic Journal of Philology) in 1883. His next two publications, a translation of Felix Franke's pamphlet on the practical acquisition of language, Die Praktische Spracherlernung (The Practical Language Learning), into Danish, and his own Kortfattet engelsk Grammatik (Brief English Grammar) were published in 1884 and 1885, respectively, and got him noticed as a linguist. Kortfattet engelsk Grammatik was one of the earliest examples in Europe of learning material produced according to phonetic principles which were just beginning to become popular. In 1886, along with several other scholars and teachers, he helped to establish a Scandinavian association for the reform of language education, named Quousque tandem (Latin: for how long).
Jespersen earned his master's degree in French, with English and Latin as his secondary languages in 1887. After that, he traveled to England, Germany and France, during which time he met with notable linguists like Henry Sweet and Paul Passy while also attending lectures at institutions like Oxford University. He returned to Copenhagen in August 1888 on the advice of Thomsen, and began work on his doctoral dissertation of the English case system, which he completed in 1891. In 1890, he established the phonetic notation "Dania", which was specially adapted for Danish. It was used in several major Danish reference works.
Language is a tool used by people to make themselves mutually understood, thus people will work to shorten the forms and simplify the grammatical system.
For two years, Jespersen worked as a Privatdocent (a private teacher or lecturer recognized by the university but receiving no payment from it) at the University, giving lectures on Old English and Chaucer. Then, In 1893, he replaced retiring George Stephens as professor of English in the University of Copenhagen, and Jespersen remained there until he also retired in 1925. He was also the Rector of the University from 1920 to 1921.
Jespersen was best-known as a language teaching reformer and phonetician during the 1890s. He published many works on phonetics during that time, including The Articulations of Speech Sounds in 1889, in which he put forth a new analphabetic system (representing sounds by composite signs rather than by single letters or symbols, like previously used Roman letters) for scientific transcription. Jespersen's Fonetik, published in 1899, was also a major contribution, and was translated into German in 1904, where it was split into two books: Lehrbuch der Phonetik and Phonetische Grundfragen. Twice, efforts were also made to get the book published into English, but those never were completed. In Danish, he further published Modersmålets fonetik (The Phonetics of the Vernacula) in 1906 and Engelsk fonetik (an English handbook for Scandinavian students) in 1912.
Jespersen published extensively on English. Two of his greatest works in this area were Modern English Grammar, 7 vol. (1909-49), which concentrated on morphology and syntax, and Growth and Structure of the English Language (1905), which was reprinted in 1969 and remains a comprehensive view of English by someone with another native language.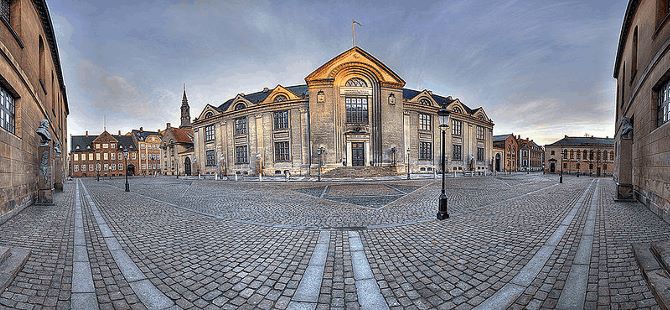 University of Copenhagen
Jespersen visited the United States twice, lecturing at the Congress of Arts and Sciences in St. Louis in 1904, and then visiting both the University of California and Columbia University during a trip from 1909 to 1910.
Even after he retired, Jespersen remained active in the international linguistic community. Not only did he continue writing, but he also convened and chaired the first International Meeting on Linguistic Research in Geneva in 1930, and he acted as president of the Fourth International Congress of Linguists in Copenhagen in 1936. Jespersen died in April, 1943, at the age of 82.