The Slavonic branch of the Indo-European languages have a number of well known languages, such as Polish and Russian. However, there are a few languages in that group that have struggled with being recognized as more than just dialects. Now, they even struggle for their own survival. Three of those are Kashubian, Rusyn, and Silesian.
Kashubian
Kashubian, also known as Cassubian, is a Lekhitic language, which is a group of the Slavonic family of languages. It is reported to have roughly 200,000 speakers total, with only 53,000 speakers using it daily. Most of the speakers use it as a secondary language to Polish and it is considered to be a seriously endangered language.
Kashubian gets it name from the the tribes which first spoke it, called the Kashubians. These tribes lived in the central Poland region called Pomerania, which lies on the southern coast of the Baltic Sea. Most current speakers of it live still in this region, but there are also some Kashubian speakers living in Canada.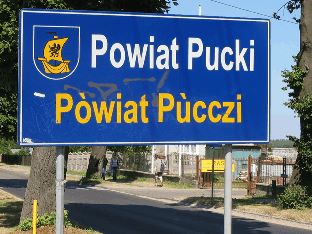 Bilingual Polish-Kashubian road sign in Poland
For many years, Kashubian was viewed as a dialect of Polish, but during the 14th century, it began to be seen as a distinct language in itself. It is the closest "living" relative to Polish and, like Polish, it includes loanwords from both Low and High German, as well the Baltic languages and Russian. However, the several dialects of Kashubian are not highly mutually intelligible, such as a speaker of southern Kashubian would have considerable difficulty in understanding a speaker of the northernmost dialects.
Examples of printed Kashubian literature go back to the late 1500s. Many authors wrote in Kashubian, and that literature has been translated into English, Czech, Finnish, German, Belarusian, Slovene and, of course, Polish. A large body of Christian literature has also been translated into Kashubian, including the New Testament. The current written form of the language was developed from one introduced by Florian Ceynowa in his book Zarés do grammatikj kasebsko-slovjnskjé mòvé (An Outline of the Grammar of the Kashubian-Slovincian Language), published in Poznań in 1879. The alphabet used is based on the Latin alphabet with added diacritics.
After the end of communism in Poland, Kashubian began rising in status in Poland. In 2005, it was granted legal protection in Poland and became recognized as an official regional language and is the only language in Poland to achieve this status. There are a number of schools in Poland, perhaps as many as 90, that Kashubian is used in as a teaching language. Books and magazines are also published in Kashubian, and there are some radio and TV programs in it. It is even an official alternative language for local administration purposes in Gmina Sierakowice and Gmina Parchowo in Pomeranian Voivodeship. However, this may not be enough to prevent it from becoming extinct.
Rusyn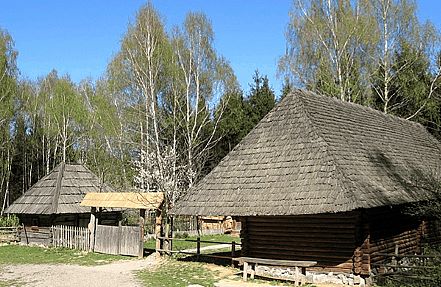 Rusyn farmsted from the village of Lyuta, Beliko-Bereznyanski region
Rusyn, also called Ruthenian or Ruthene, is an East Slavic language spoken by the Rusyns of Central Europe. The Rusyns are not part of just one country, however, which makes tracking the number of speakers difficult. They are one of the multiple ethnic groups of Slovakia, like the Germans, Slovaks, Hungarians and Romanies (Gypsies), and have never had their own country. Their current homeland is spread over the a few countries, mainly Ukraine, Slovakia, Hungary and Poland.
In Ukraine, the Rusyns live in the Transcarpathian Region. While it is often considered to be a dialect of Ukrainian in Ukraine, the dialect spoken there is referred to as Carpatho-Rusyn. It is composed of a mixture of some Eastern Slovak dialects and East Slavic features, as well as other languages such as Russian Church Slavonic, Russian and Old Ruthenian, because the Rusyns there emigrated to Bačka from Eastern Slovakia and Western Ukraine during the mid-eighteenth century.
In Slovakia, Hungary and the Serbian province of Vojvodina, the dialect spoken is Pannonian-Rusyn. However, in Hungary, the people and language are called "Ruthene". The Polish call it "Lemko". In northern Romania, the people are called "Ruteni" and the language is called "Ruteană". It is similar to West Slavic languages, particularly Slovak, but also has East Slavic phonetics and vocabulary and it has been influenced by surrounding South Slavic languages, like Serbian and Croatian. There are also speakers of Rusyn in the USA and Canada, where it is called "Ruthenian".
In Slovakia today, Rusyns are undergoing a revival in their culture and language.
While this diversity in dialects and regions has made it difficult to get an accurate count, there are approximately 1.5 million Rusyns in Europe today, and approximately 120,000 of them are in Slovakia. There have been attempts to standardise the variants of Rusyn, but they have been unsuccessful. Different orthographies have been developed, most using variants of the Cyrillic script. Meanwhile, a number of different grammatical standards exist based on regional dialects.
Most Ukrainian scholars do not recognize Rusyns as a separate ethnicity, despite the fact that some Rusyn speakers consider themselves ethnically different from Ukrainians. Many Rusyns immigrated to America between 1880 and 1914. During the 1950s, the Rusyn nationality in Czecho-Slovakia was declared to be Ukrainian, but the vast majority of Rusyns refused to accept a Ukrainian identity and instead declared their nationality to be Slovak. Existing Rusyn cultural institutions were changed to Ukrainian, and the use of the Rusyn language in all official communications was ended. As a result, most Rusyn villages had only a Slovak-language school and a Slovak identity was adopted by most of the Rusyn population.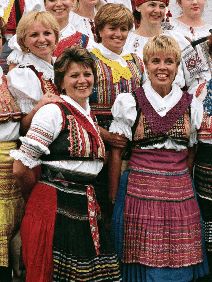 Rusyn woman's costume from Presov
The first scholars to recognize the existence of Rusyn as a separate language were from former Institute of Slavic and Balkan Studies in Moscow (now the Institute of Slavonic Studies of the Russian Academy of Sciences) in 1992. Serbia has also recognized Pannonian-Rusyn in Vojvodina as an official minority language, and since 1995, Rusyn has also been recognized as a minority language in Slovakia.
In Slovakia today, Rusyns are undergoing a revival in their culture and language. They have their own weekly newspaper, magazine, radio programs, art museum and dramatic theatre. Some elementary schools in towns and villages also now provide instructions to their students in the Rusyn language along with Slovak. Rusyn is listed as a protected language by the European Charter for Regional or Minority Languages in Slovakia, Serbia, Croatia and Romania. However, they must still struggle to overcome countless years of denationalization if they are to survive as a people and language.
Silesian
Silesian (or Upper Silesian, as there is a "Lower Silesian" in Germany, which is now called "Silesian German") is a West Slavonic language, spoken in a region called Upper Silesia, which is split between the northeastern region of the Czech Republic and southwestern Poland. About 509,000 people declared Silesian as their native language in the last official census in Poland in 2011. In the combined censuses of Poland, Czech Republic and Slovakia, nearly 0.9 million people claimed Silesian nationality.
The Silesians living in Poland mostly view themselves as a separate nation within Poland.
Like its language sisters of Kashubian and Rusyn, Silesian has fought hard to be recognized as a language on its own. Some Polish linguists claim it is a dialect of Polish, although studies have shown that it could only be classified as a dialect of Old Polish, and not the modern version. Others claim it is a part of the Czech language. Polish people have some trouble understanding Silesian, but they are able to, which neither proves nor disproves its status as an independent language, since Polish speakers can also understand Czech and Slovak speakers. The Silesians living in Poland mostly view themselves as a separate nation within Poland. Some international linguists regard Silesian as a separate language.
Silesian itself has several dialects. In the Czech Republic, there are the Cieszyn Silesian, Opava Silesian, Jabłonków Silesian and Lach Silesian dialects. In Poland, there are Niemodlin Silesian, Gliwice Silesian, Kluczbork Silesian, Prudnik Silesian, Opole Silesian and Sulkovian Silesian dialects.
Only in the last decade has Silesian really gained ground in being recognized as a language. In July 2007, it was recognized by an ISO Joint Advisory Committee, Library of Congress, International Information Centre for Terminology and SIL International, confirming its place in the areas of technology. A few months later in September, the Polish parliament made a statement about a new law to give Silesian the official status of a regional language. In 2008, two organizations promoting Silesian language were created: Pro Loquela Silesiana and Tôwarzistwo Piastowaniô Ślónskij Môwy "Danga".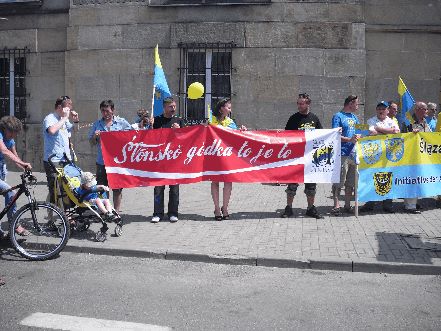 Group with Pro Loquela Silesiana banner
One of the outcomes of these new agencies was the formation of a new alphabet. Pro Loquela Silesiana created the new alphabet to better cover the sounds of Silesian, since previous alphabets, like the Polish one, were unable to do so properly. Publishing of Silesian materials began before that, though. In 2003, the National Publishing Company of Silesia (Narodowa Oficyna Śląska) was started. It was founded by the Alliance of the People of the Silesian Nation (Związek Ludności Narodowości Śląskiej) and it prints books about Silesia and in the Silesian language.
It has also received greater usage in other media. There are now TV and radio stations, music groups, theatre performances, films and teaching teaching aids for Silesian. This is very promising for the continued survival of this language.