Every spring, most parts of India have a celebration to mark the end of winter called Holi (pronounced the same as English "holy"). It normally lasts two days and while it is celebrated slightly differently, according to region, the main festival involves lighting bonfires, eating rich food, and coating other people in coloured powder and liquids. During this time, the normal societal strictness is relaxed, allowing people of all age, gender, status and caste to come together in a time of excitement and fun. This year, Holi will start on Wednesday, the 27th of March and will continue for 2 days until Thursday, the 28th.
Legends
The celebration is attributed mainly to a legend about a king of demons named Hiranyakashipu. The Demon King had been granted a boon (favor or blessing) by Brahma, making him almost impossible to kill. With this power, he became arrogant, attacking both the Heavens and the Earth, demanding that people stop worshipping the Gods and praise only him instead.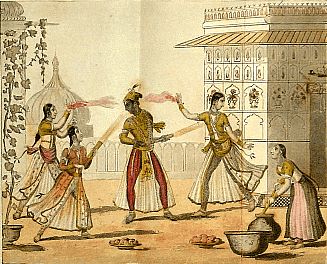 A rajah and his wife celebrating holi
However, his own son, Prahlad, disobeyed him, and continued his devotion and prayers to Lord Vishnu. This infuriated Hiranyakashipu, so he tried many times to kill his son for his insolence. Each attempt was foiled by Lord Vishnu. Finally, the Demon King turned to his Demoness sister, Holika. She had also been granted a boon which made it impossible for her to be burned by fire. Hiranyakashipu ordered Prahlad to sit on the lap of Holika while she sat on a burning pyre. Prahlad obeyed his father, but also prayed to Lord Vishnu to protect him from the fire. When the pyre was lit, it was Holika that burned instead, while Prahlad was unharmed. The boon only worked when Holika entered fire on her own. This miracle of Prahlad surviving while Holika burned is celebrated as Holi, being seen as a triumph of good over evil as well as devotion to god. Specifically, bonfires are lit on the eve of the festival, which is called Holika Dahan (burning of Holika).
Another legend associated with Holi is the story of Dhundhi. She was an evil ogress who used to trouble the children of the kingdom of Prithu. She had a boon on her that made her almost invincible. However, she was also cursed by Lord Shiva, making her vulnerable to shouts and pranks by children, which eventually allowed the children she tormented to drive her away. For this reason, children play pranks during the time of Holika Dahan.
A third legend is one of love. Young Lord Krishna, who was dark of skin, was confused by how fair skinned his beloved Radha was, so his mother, Yashoda, told him to apply colour to her face. The mischievous young Krishna did just that, throwing coloured powder on her as well as others. This became a tradition among the young which eventually spread to everyone. This aspect of the celebration gives Holi the name Festival of Colours.
Historical References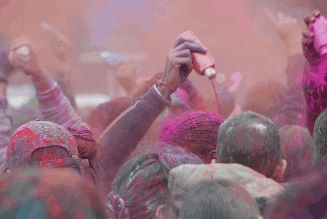 Some of the oldest depictions of Holi celebrations go back to the 16th century. A panel from that time in a temple in Hampi has a scene showing a prince and princess among maids who have large pichkaris (water pumps) full of water to soak the royal couple. A Mewar painting from around 1755 depicts the Maharana giving gifts to some people while a dance is happening. In the center of the scene is a tank full of coloured water.
Holi Preparations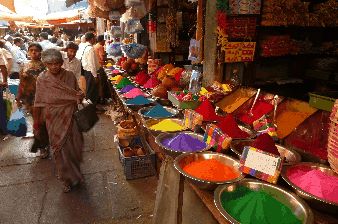 The coloured powder of Holi is called called gulal. In the days before Holi, merchants put out many bowls of gulal and abeer (or aabir - small crystals that are added to the gulal to make it sparkle) in many bright colours in preparation for the celebration. These powders will also be mixed with water which can be sprayed on people using hand pumps called pichkaris or used to fill water balloons which will be thrown. In medieval times, these powders were made by drying tesu flowers, which were bright red or deep orange coloured, then grinding them to dust. Today, the colour added to the powder is chemical based.
The pichkaris, which have been used since the sixteenth century, constantly come out in new styles to attract children, and many of them even become collectibles. Traditional ones looked like large syringes, but now they can be almost anything, from modern squirt guns to toy figures and come in all different sizes.
Women also spend much of the time before the festival preparing various traditional foods, like gujiya (a sweet dumpling made with wheat flour and stuffed with khoya, a thick milk food), mathri (a kind of flaky biscuits), papri (crisp fried dough wafers), papads (thin, crisp crackers) and pakoras (fried snacks, like fritters). These are consumed along with large amounts of the intoxicating bhang, which is a preparation from the leaves and flowers cannabis plant, and thandai (a cold drink prepared with a mixture of almonds, fennel seeds, magaztari seeds).