The exact starting place and time of this story are not completely known, so we will begin in Frascati, near Rome, in 1912. There was the Villa Mondragone. It was built in 1573, and served as a temporary residence for nobles and popes for a few centuries before being sold to Jesuit priests in 1865. The Jesuits turned it into a college, the Nobile Collegio Mondragone, for young aristocrats. In 1912, the college found itself in need of money and decided to sell, very discreetly, some of the objects it had collected over the centuries.
An American antique book dealer and collector, Wilfrid M. Voynich, took an interest and purchased a collection of thirty ancient manuscripts from the priests. Among them was a very odd manuscript, containing text in a language that Voynich had never seen before, as well as numerous coloured drawings. This curious document came to be known as the Voynich Manuscript.
Contents

Wilfrid Voynich
Voynich could make little sense of the manuscript, so he made copies and had them sent to various experts of the time, including many well known cryptologists and scholars. They also could understand very little of it, but they did learn a few things about it.
First of all, from a piece of paper which was once attached to it, they were able to determine that the manuscript was once part of the private library of Reverend Petrus Beckx S.J., a Belgian Jesuit, elected 22nd Superior-General of the Society of Jesus. There is no evidence, however, that he was the author. The experts believe it is European and perhaps written between the 15th and 17th centuries.
As to the writing, it has been determined to be an alphabetic script, with somewhere between nineteen to twenty-eight letters, but they don't show any relationship to any English or European letter system. The text is written smoothly, indicating the author understood what he was writing, and there doesn't appear to be any corrections. There is, however, some evidence that possibly two different languages, if that is indeed what they are, were used and that it was written by more than one person. The text of the manuscript is clearly written from left to right, as can be seen because there is a slightly ragged right margin and some of the longer sections are broken into paragraphs with "bullets" on the left margin.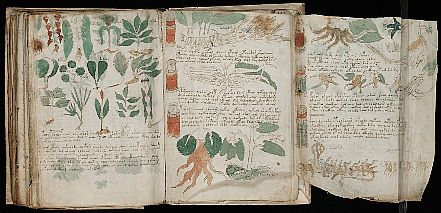 Pages of the Voynich Manuscript, with foldout, showing plants and the strange text
But the text isn't the only odd part of the manuscript. It is full of hand-drawn images, many coloured, of a variety things. Some are unidentified plants, which might relate to what seem to be herbal recipes or botanical classifications. There are mysterious charts which seem to show astronomical objects as seen through a telescope as well as some of live cells as seen through a microscope. The stranger drawings involve naked women, sometimes in bathtubs that are connected by elaborate plumbing, sometimes in charts which contain strange zodiacal signs.
The physical dimensions of the manuscript are smaller than normal modern book sizes, being just around seven by ten inches (18 x 25cms), but it is rather thick. It contains just over 240 pages, but is estimated to have originally contained 272 pages, as shown by gaps in the page numbering. Just 33 of those pages contain only text, the rest contain drawings or a combination of both text and drawings.
Possible Origins

Emperor Rudolph II, the Holy Roman Emperor
The origins of the Voynich Manuscript are confusing and unverified. The earliest date anyone can place on it is 1586. It is believed that Emperor Rudolph II, the Holy Roman Emperor, purchased the strange book from a man who visited Rudolph's court. The Emperor was a lover of art and the occult, and so this book of strange writing and images would have immediately interested him. The man bearing the manuscript presented it with a letter which stated that it was the work of the Englishman Roger Bacon, a thirteenth century English philosopher and Franciscan friar. Rudolph paid six hundred gold ducats for it, which was an amazing amount of money at that time to pay for anything as simple as an unknown manuscript.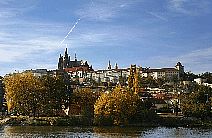 Castle of Prague, where the manuscript was kept after the Emperor bought it
The Emperor collected many things and among them were a menagerie of exotic animals and botanical gardens, which were housed at Prague Castle. He even had to have a northern wing added to contain his growing collections. Jakub Hořčický became administrator of the properties of the St. George's Convent in the Prague Castle in 1606. He was also the personal doctor of Emperor Rudolf II who granted him the title 'de Tepenecz'. At some point, Jakub handled the manuscript, even signing his name at the bottom of the first page. This was faintly seen, as it had been erased, but was revealed with the help of chemicals. Unfortunately, Voynich tried to find more such hidden writings on that page by chemical treatment which only succeeded in erasing Jakub's name. It can only now be seen on photocopies of the document. It is not known why Jakub would have signed it.
Sometime after this, the manuscript became property of Georg Baresch, a European alchemist and antique collector from Prague. He was also curious and puzzled about the manuscript and wanted to find someone who might be able to help him understand it. He heard of a Jesuit scholar from the Collegio Romano, Athanasius Kircher, who had published a Coptic dictionary and worked on deciphering Egyptian hieroglyphs, so Baresch sent a copy of some script to him in 1637. After receiving no reply, he sent another letter in 1639, presenting his view that the manuscript represented 'Egyptian science'.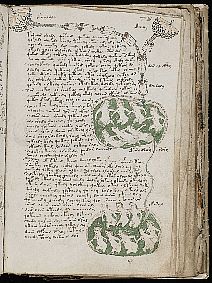 Page of the manuscript showing nude women bathing in bathtubs connected by strange plumbing
Kircher did not have any answers, but was interested in acquiring the book. However, Baresch refused to give it up, and it was only after Baresch's death in 1662 that more action was taken. The manuscript was inherited by Baresch's friend, Jan Marek Marci (Johannes Marcus Marci), who was then the rector of Charles University in Prague. He knew of Baresch's letters to Kircher and sent the manuscript, along with a cover letter explaining its origins, to Kircher in 1666. It is from this letter that we know the previous history of the manuscript.
After that, nothing is known of what happened to it during a span over over two hundred years. Most likely, it was kept with the rest of Kircher's correspondences in the library of the Collegio Romano , now the Pontifical Gregorian University. In 1870, the troops of Victor Emmanuel II of Italy captured the city and annexed the Papal States. The new Italian government began confiscating many properties of the the Church, and those included the Collegio library. Many books were quickly transferred to personal libraries before this happened, so as to avoid being confiscated. This is probably how it finally came to Petrus Beckx. His "private" library was later moved to the Villa Mondragone.
The Letter
Here is the contents of the cover letter that Johannes Marcus Marci sent along with the Voynich Manuscript to Athanasius Kircher in 1666.
REVEREND AND DISTINGUISHED SIR, FATHER IN CHRIST:
This book, bequeathed to me by an intimate friend, I destined for you, my very dear Athanasius, as soon as it came into my possession, for I was convinced it could be read by no one except yourself. The former owner of this book asked your opinion by letter, copying and sending you a portion of the book from which he believed you would be able to read the remainder, but he at that time refused to send the book itself. To its deciphering he devoted unflagging toil, as is apparent from attempts of his which I send you herewith, and he relinquished hope only with his life. But his toil was in vain, for such Sphinxes as these obey no one but their master, Kircher. Accept now this token, such as it is and long overdue though it be, of my affection for you, and burst through its bars, if there are any, with your wonted success. Dr. Raphael, tutor in the Bohemian language to Ferdinand Ill, then King of Bohemia, told me the said book had belonged to the Emperor Rudolph and that he presented to the bearer who brought him the book 600 ducats. He believed the author was Roger Bacon, the Englishman. On this point I suspend judgment; it is your place to define for us what view we should take thereon, to whose favor and kindness I unreservedly commit myself and remain,

At the command of your Reverence,
JOANNES MARCUS MARCI,
of Cronland.
PRAGUE, 19th August, 1666