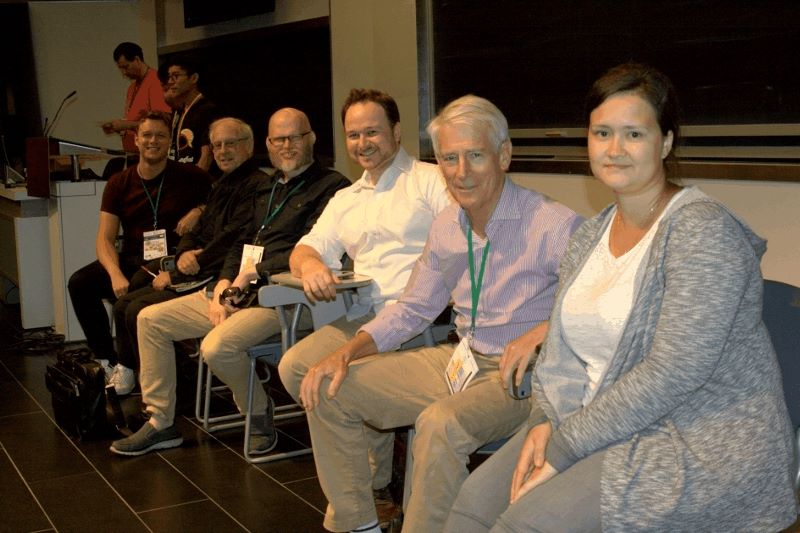 Panel discussion
The last day of the festival once again featured some great talks ranging from applying music theory to language learning, Esperanto culture, learning languages as a hobby versus using it professionally as an interpreter, employing au pairs as a means to raise multilingual children, compelling input, highly animated workshops, etc. In addition, we had some of our key speakers come on stage for an extensive panel discussion, allowing participants to ask all of their most burning questions directly to their heroes. As expected, we ran out of time to address all the questions due to the heated discussions!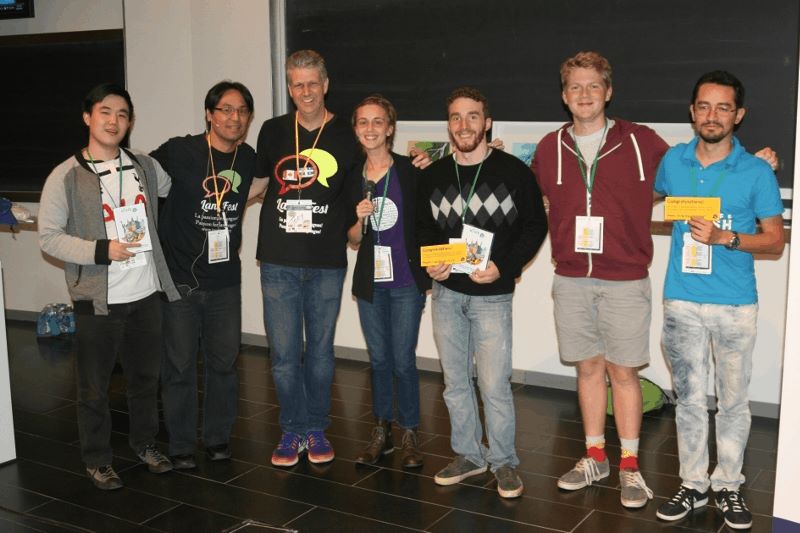 uTalk game winners
Finally, everyone attended the closing ceremony, during which uTalk announced the winners to the LangFest Game. Congratulations to Carlos Castillos, who won a 1-year subscription to uTalk, and to Drew Wagner, who won a LIFETIME ACCESS to uTalk!!
Next up were our very own and brand new LangFest Awards, which were delivered by the LangFest Awards Committee, led by John Slocombe. The 2017 LangFest Media Award, which recognizes an individual or organization that has produced a blog, video, podcast or other form of media that has had an important impact on the language learning community, was awarded to Benny Lewis, who has for the past few years inspired us, informed us and, importantly, entertained us! Congratulations Benny!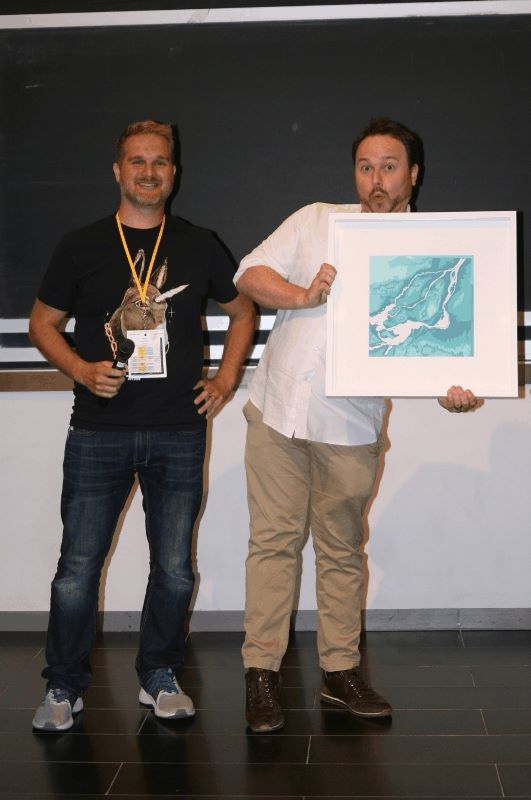 LangFest Media Award winner – Benny Lewis
Next the LangFest Innovation Award was awarded to the Amikumu team. This award recognizes an individual or organization that has made a substantial contribution to the global language learning community with actions to inspire others in their language learning or by introducing or championing an innovative product, technique, theory or measure. Congratulations Amikumu for your ambitions to unite us through the languages we speak – or aspire to speak! And finally, the LangFest Award of Excellence was awarded to Steve Kaufmann to recognize him for the incredible contributions made to the language learning community over the ten years since he started his YouTube channel, which is now pushing towards 110K subscribers with over 1000 inspirational videos, during which time he also co-founded LingQ, a unique and innovative language learning platform. Incidentally, LangFest would also like to thank him for his valuable guidance as executive advisor to LangFest.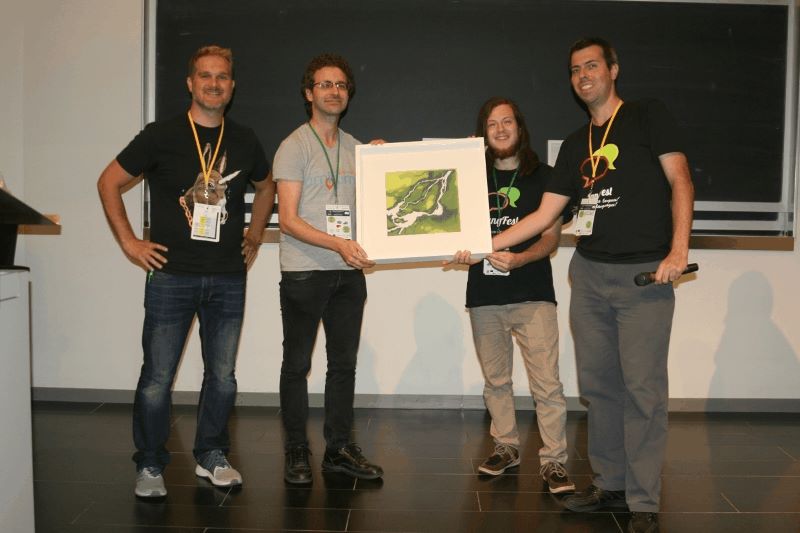 LangFest Innovation Award winner - Amikumu
The closing ceremony marked the end of the conference portion of LangFest 2017, but we had one last little activity left for our participants: The Annual LangFest Picnic at Parc La Fontaine! Very well attended once again, this year's picnic went well into the night, with wonderful weather, great camaraderie and endless discussions!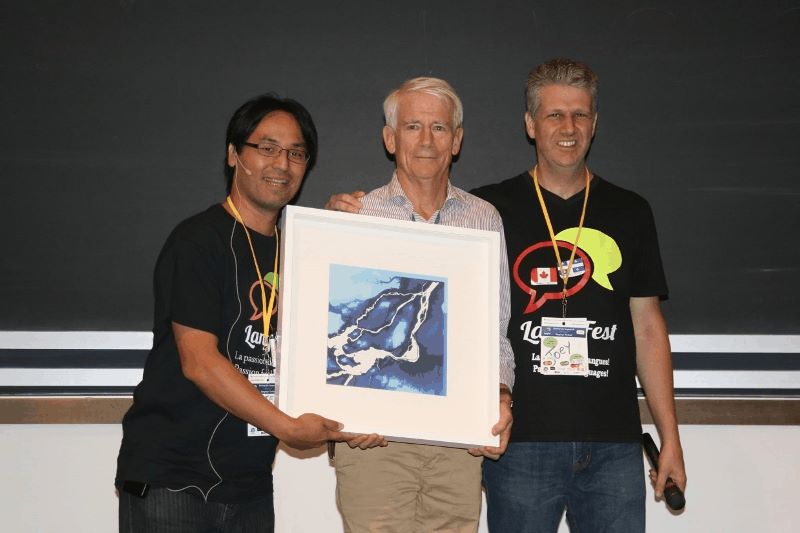 LangFest Award of Excellence winner - Steve Kaufmann
Fully exhausted… I mean, exhilarated, after LangFest 2017, the team took a few weeks of rest, in order to restart the cycle nice and fresh. From experience, we know that we need to carefully set our pace so we don't burn ourselves out or run out of time as we prepare LangFest 2018. The 2017 event has raised the bar once again to heights that appear mighty daunting right about now. But then again, that was how we felt after the event last year, and we still succeeded in pulling off yet another incredible event this year. So we are confident that LangFest 2018 will be amazing, although we don't yet know in what way. We do know, however, that we want to make it even more interactive and social than this year. This is what some of the participants told us through our survey. We also know that we want to widen the scope even further than this year's expansion, which included translation, film, social responsibility and multicultural relationships. Yes, language learning methods, minority languages, workshops, teaching, raising multilingual children, etc. will all still be part of the agenda going forward. But what do you think about such original subjects like languages in comedy, speech pathologies or any other unique topics? If you have any ideas, I invite you to please let us know! We also welcome ideas for optional activities before the conference weekend. And finally, if you are in Montreal, you are cordially invited to our monthly gatherings called the LangMinis (see our *Facebook page and *website for more info).
In closing, we welcome you all to join our year-long journey to LangFest 2018, which will take place Aug. 21-26, by following us on our *social media or subscribing to our newsletter from our *website. We also ask that you please help us spread the word on LangFest in any way you can. You can blog about us, tweet about us, post about us on Facebook, Instagram, YouTube, etc., with the hashtag #LangFest18. Furthermore, you can help promote the event with a unique promo code assigned to you, which not only gives your audience a discount on the tickets, but could even earn you a ticket and potentially even fund your trip to Montreal in part or in whole! If you do not intend on coming, you can still be compensated for every ticket sold with your promo code. For more details and your unique promo code, shoot us an email at info@langfest.org.
And of course, if you are interested in attending LangFest 2018, the tickets are currently on early bird sales. Please visit: langfest2018.eventbrite.ca.
Hope to see you all in Montreal next summer!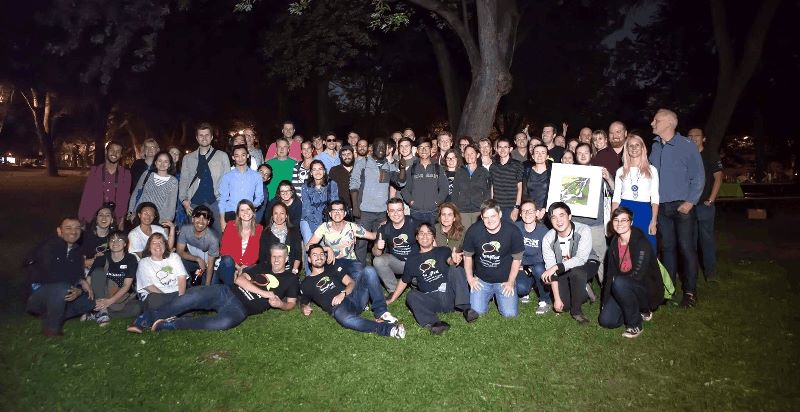 Annual LangFest Picnic
Tetsu Yung
Co-Organizer of LangFest info@langfest.org

*LangFest on the internet:
Website: www.langfest.org
FB: www.facebook.com/LanguageFestival
YT: www.youtube.com/LangFest
TW: @langfest
IG: @Lang_Fest

Tetsu is the co-organizer of the Montreal Language Festival and is passionate about raising multilingual children. He speaks 10 languages in total, 5 of which he speaks fluently, which are English, French, Japanese, Mandarin and Spanish. He is raising his 3 children to speak these 5 languages as well. He is also the author of the book: "Pampers to polyglot: 7 ideas for raising multilinguals like me".