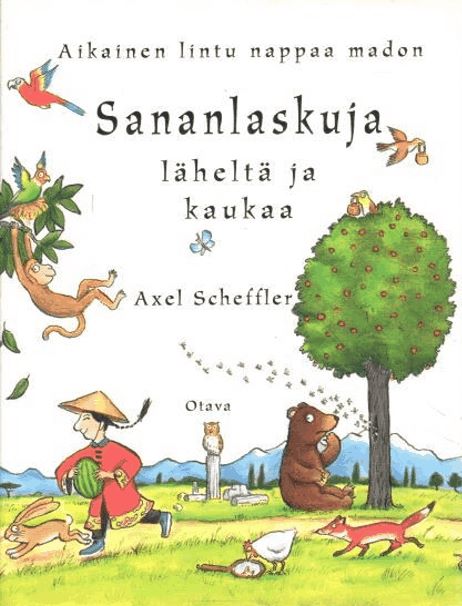 Aikainen lintu nappaa madon. Sananlaskuja läheltä ja kaukaa
by Axel Scheffler, translation by Johanna Venho
Language: Finnish
Item Rating:





The book in review in this issue is this time in Finnish, Aikainen lintu nappaa madon. Sananlaskuja läheltä ja kaukaa, originally The Silent Beetle Eats the Seed. Proverbs from Far and Wide. It is available in bookshops and online stores, but apparently not in Kindle formats, which is why the review is not double checked with the original language version.
The title in two languages is actually a good start for the review since there is a proverb. In Finnish it says literally "the early bird catches the worm" whereas in English a silent beetle is used. Apart from the title, this book does not include localization of proverbs but represents them by means of rather literal translations.
The preface is a synthesis of what proverbs collected from countries all over the world are and if they can even be traced back to some specific country, nor is the semantic origin of many proverbs known. 125 pages of illustrated proverbs can't possibly give an exhausting picture of the world of proverbs, but it sure does give a very interesting look on the subject, as the author Axel Scheffler hopes.
Scheffler is a German-born illustrator and animator, originally from Hamburg but living in London since the 1980's. He has both co-authored books and been the only author, like in this one. Like one can imagine, they are mostly books for children. This book is enjoyable for people of all ages. The translator, Johanna Venho, is also a poet and a writer herself.
Scheffler divided his work into 15 thematic chapters: happiness, wisdom, possibility, envy, injustice, patience, physical appearance, friendship, experience, caution, impossibility, gratitude, consequences, age, and contentment. He illustrated all the proverbs in this book with a very describing, colorful drawing, and included the language, country or area of origin if it's known.

The illustrations are very good and very entertaining and sometimes underline the absurdity of the proverb, such as the Persian "On hullua kastella norsua lusikalla", meaning "it's crazy to wet the elephant with a spoon" accompanied by a drawing in which a man is standing on ladders leaning on an elephant and wetting it with a spoonful of water. Another man is standing beside them, looking a bit confused. This illustration is exceptionally clever, as it represents two proverbs at the same time.
Scheffler has chosen proverbs from a great many of countries, and with the illustrations representing their original culture, if possible, he gives an extra flavor to them. What this book offers is an insight into the content of the proverbs, sometimes familiar and sometimes not. There are no explanations, so the reader is supposed to understand the usage of them from the translated versions and the illustrations, which is mostly easy.
It would be very nice to have the proverbs also in their original language, but I must admit that for many readers having all kinds of scripts and their romanization would possibly seem too much information. Maybe this will happen in a future edition co-authored with some linguist. Until then enthusiastic linguist-readers are free to find the original versions by themselves. Quite a challenge, I must say!