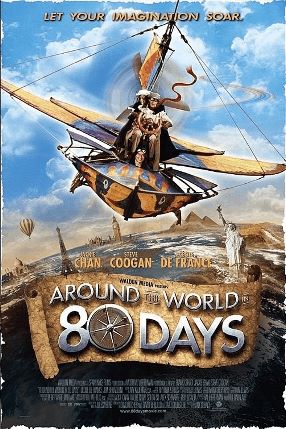 Around the World in 80 Days
2h
(PG) Action / Adventure / Comedy / Family
16 June 2004 (USA)
Country: USA / Germany / Ireland / UK
Languages: English / French / Mandarin Chinese / Hindi
If you like to travel, then you have probably heard about or read the Jules Verne classic "Around the World in 80 Days". You may have seen the 1956 film adaptation of the book.
For those of you who have, it is probably best that you don't see the 2004 film version from Disney starring Steve Coogan and Jackie Chan. I made the mistake of thinking "Travel film, Jackie Chan, and probably a few languages spoken. Sounds great!" and fell into the trap of watching this mess.
The basic storyline of the story for all three versions is that Englishman Phineas Fogg makes a wager that he can travel around the world in 80s day in the late 19th century. He and his new French valet, Passepartout, embark on the journey but are troubled along the way by unforeseen circumstances as well as an English detective who thinks they are related to a bank robbery.
From there, this film version doesn't really attempt to stick to the original, and they did that by design, going for a more comedic approach to this adventure story. The problem is, it fails as a comedy, adventure, or even a children's film. It feels too much like it is trying to be all of them at the same time, which is very difficult to achieve.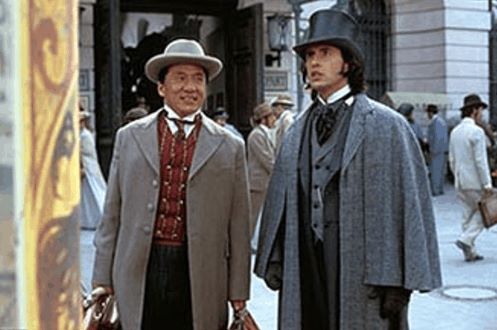 Phineas Fog and Passepartout preparing to leave
The main problem is one that can be found in many of Jackie Chan's films over the past two decades. For those who have never seen a Chan film, they are full of high speed fighting action mixed with Chan's comedic style. When he started working with Hollywood, they decided to stick him with a comedic actor in each film, figuring they would make a great combination. Judging from the popularity, many of them did work well.
However, for me, these films are often hard to watch because they appear to be silly comedies when the comedic actor is doing his stuff, then they turn into Jackie Chan adventures whenever there is a fight scene, giving each film a dual, if not disjointed, personality.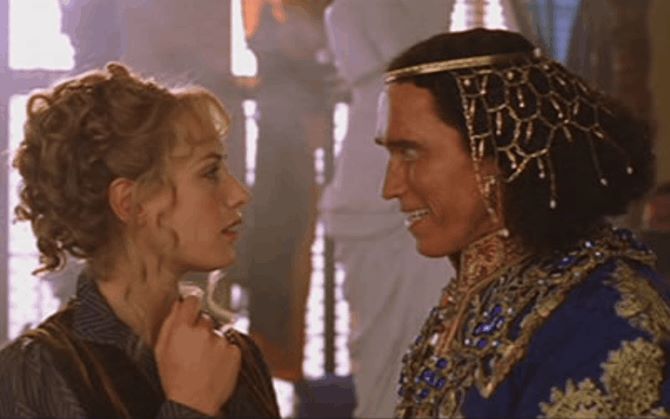 Oh look! It't the Terminator!
Around the World in 80 Days has the same problem. Chan's Passepartout is being pursued by some Chinese warrior clan to steal back a Jade Buddha which Passepartout stole from the English bank because it was stolen from his village in China. This means that during the trip, there are sudden fighting sequences which don't really fit the rest of the film's tone.
Well, actually, it is hard to determine the film's tone. It tries to be funny, including cameos by various comedic actors doing little parts, but they all tend to fall flat. Some of the "humor" is rather vulgar or just strangely added, especially considering this is a Disney film. Examples include a ship captain pulling up his shirt to reveal that a shark has bitten off his nipples and one of the English gentleman giving an interested smile when Fogg mentions he has worn women's clothing.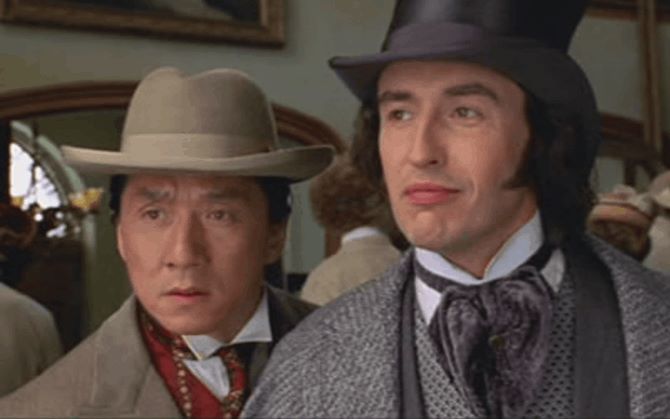 Our heroes looking at something
On top of that, there are portions of Around the World in 80 Days which are very poorly edited, like a sudden shift in a scene that doesn't make any sense. Some entire parts don't make any sense at all, and the ending sequence is dragged out far too long.
There are some positive things to say. The special effects are done well, and the views of "the world" are whimsical rather than realistic, which works for the story. There are also a few different languages heard, including French, Mandarin Chinese, and Hindi. But even these language scenes are wasted opportunities, because somehow, even in a remote China village and on a train in India, everyone including the children speak proper English, over a century before Skype and DuoLingo. The fight scenes are, of course, fantastic and funny, as one would expect from Jackie Chan.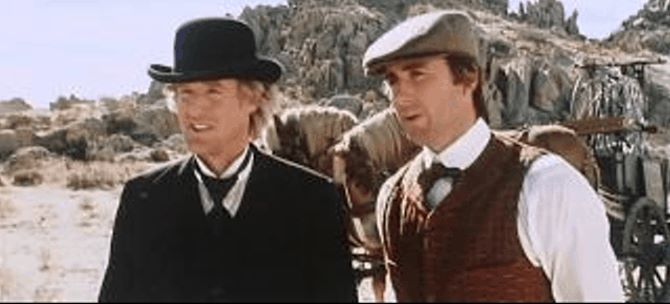 More star appearances!
You might also like some of the cameos by actors like Arnold Schwarzenegger, Rob Schneider, Luke Wilson, Owen Wilson, Mark Addy, and John Cleese. All of these appearances take you out of the story because your mind is going "Hey! That's ....!", though, so I don't consider them as positive additions.
There is even a scene with singer Macy Gray, playing "Sleeping French Woman". The writers actually created a scene of a woman with a child in a room, both of whom are saved by Passepartout when part of the room catches fire, just for her to have a role.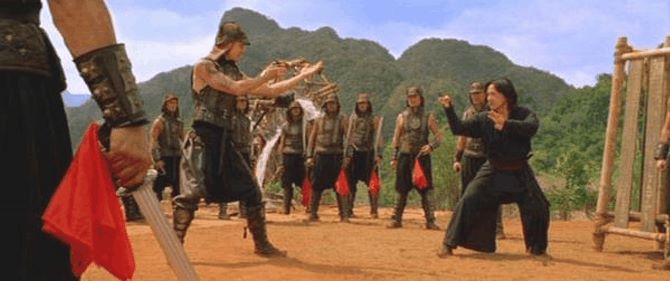 Suddenly, it turns into a Jackie Chan movie
I sat through the entire film and it was entertaining, but only if you have nothing better to do. At the end, I felt cheated, not inspired. If you want to see Jackie Chan in action, watch one his Chinese films. It will be much funnier than this sad Disney production.