Skiing is a very popular sport around the world, both cross-country and downhill, but for Norwegians, it is also a means of celebrating one of their most important events in history.
Each year, thousands of people participate in the Birkebeinerrennet, a long distance cross-country ski marathon, held in Norway to commemorate the saving of the infant heir to the Norwegian throne, Håkon Håkonsson, in 1206, by Birkebeiner loyalists.
History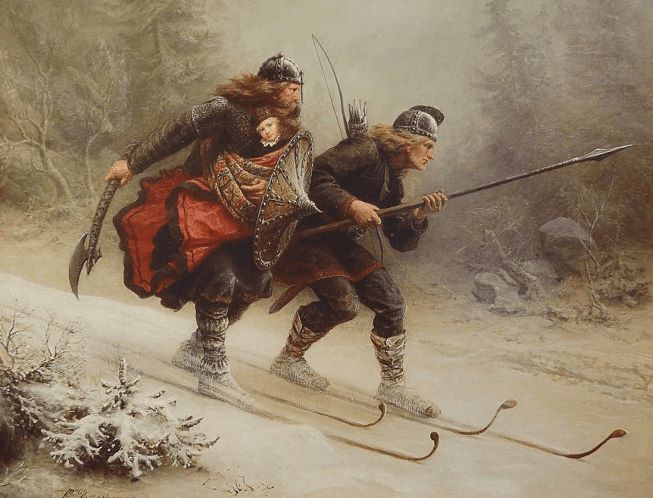 Skiing Birchlegs Crossing the Mountain with the Royal Child, 1869. Painting depicting Birkebeiner skiers carrying Prince Haakon to safety during the winter of 1206.
Around the start of 13th century, Norway was divided by two fighting factions: the Birkebeins, who held most of Norway including the throne, and the Bagler's, who had power in the East and were seeking control.
In 1206, when the King died with no apparent heir, massive war was imminent. When it was revealed there was indeed an heir, in the form of an illegitimate son of the King, a group of Birkebeiner soldiers smuggled the infant from Lillehammer to safety in Trondheim. They did this over the harsh landscape on skis.
For more information, watch the movie The Last King, which is reviewed in this issue.
Modern Day
The race covers a distance of 54 km and runs from Rena to Lillehammer. It has been held since 1932 and each year, the number of participants has increased until at last a limit of 16,000 was introduced in 2011.
Each participant carries with them a backpack weighing 3.5kg or more, representing the weight of the young king. They may also carry extra clothing and food, as a precaution for the trip over the challenging terrain.
Twice the race has been cancelled due to dangerous weather, but a large number of participants in it still completed it, then complained about the decision to cancel it.
American Birkebeinerrennet
There is also an American version of the race, nicknamed the Birkie, which is largest cross-country ski race in North America. It is held each year in Wisconsin and was started in 1973 by Tony Wise as a means of promoting skiing for his business. Wise deliberately chose to base it around the Norwegian event, giving it the same historical significance.
It has become very popular with skiers from around the world, as they come to Hayward, Wisconsin each year for it. The Birkie attracts skiers of varying ability levels, from recreational participants to Olympians and national team members.PT