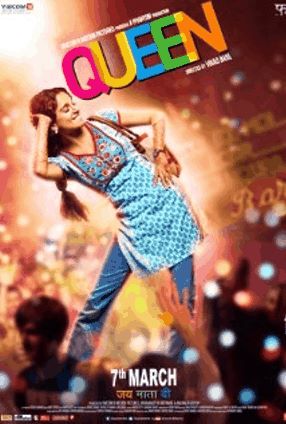 This month's film review is for the Bollywood hit Queen. It follows a young Indian woman as she tries to deal with rejection.
Rani is deep in celebrations with her family as they prepare for her wedding day, but just two days before the wedding is to take place, her fiancé, Vijay, meets with her privately and announces the marriage is off. He acts distant, and the only real explanation is that they are "too different" now.
Devastated, Rani locks herself in her room for a few days, barely eating and not allowing anyone to come in. When she finally emerges, she has made a decision: she is going to go, alone, on the honeymoon trip to Paris and Amsterdam which her parents have already paid for. Her family takes her to the airport, and while she arrives in Paris safely, she is far from being well. She seems almost frozen as she tries to cope with her sadness.
Things get worse when she realizes just how lost she is, being in another country and unable to speak the language (something I am sure many of us who have travelled can relate to).
Things get worse when she realizes just how lost she is, being in another country and unable to speak the language (something I am sure many of us who have travelled can relate to). This is also the first time she has been away from her family, so she is feeling truly alone.
Among her trials, she is freaked out when trying to eat a fish she ordered in a restaurant (unable to understand the menu), almost mugged, and stalked by the Eiffel Tower, which she had dreamed of visiting as a married woman. She is eventually taken under the protection of a woman who works in her hotel named Vijayalakshmi (or, ironically, Vijay, for short). Vijay is part Indian and the two soon become good friends: Rani is very conservative while Vijay is more wild, so the two help balance each other. With Vijay's help, Rani comes out of her depression and learns to enjoy her time in Paris.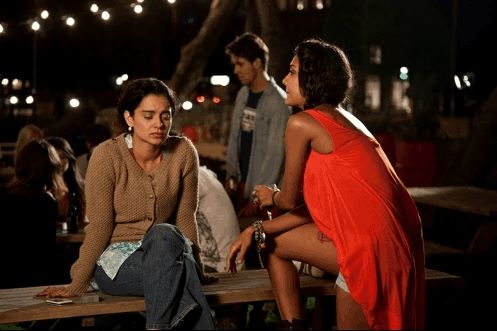 Female Vijay listening to a depressed Rani in Paris
It seems over too soon, and Rani must continue on to her second leg of the trip. She and Vijay part at the train station, with Vijay giving her a package to take to a friend in Amsterdam. Once Rani arrives there, she checks into a hostel which Vijay has arranged for her after cancelling her original hotel booking, in the hopes that Rani will more likely have fun if she is with other people.
However, to Rani's horror, she must share a room with three men. She figures out that she can sleep in the hallway instead, but the men will not let her do that, instead giving her the room for the night while they sleep in the hall.
At first, Rani is withdrawn again, but soon, she starts to interact with her roommates. They are French Tim, Japanese Taka, and Russian Oleksander, who are travelling together, and Rani joins them in their adventures.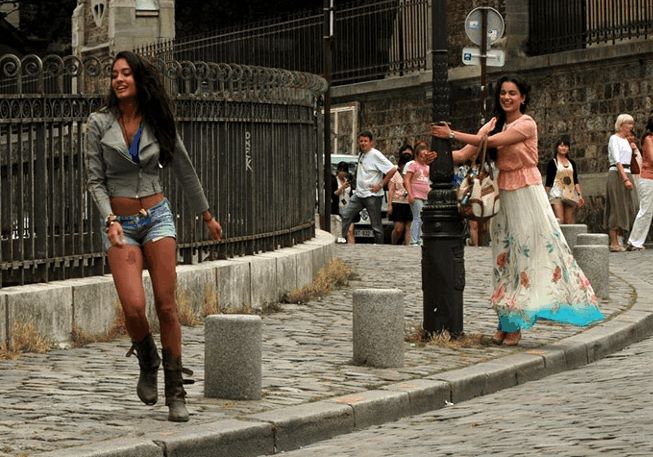 Female Vijay and Rani dancing along the streets as Rani learns to enjoy Paris
She eventually learns a deeper meaning behind their activities. Taka lost his parents and belongings during a tsunami, and Tim and Oleksander now travel with him, trying to help him forget. They have become his family, which makes Rani realize how fortunate she is to have her large family back in Delhi.
Rani also learns more about her own skills when she is challenged by an Italian chef, Marcello, whom she accidentally insulted on her first day in Amsterdam when she suggested changes to his food. He invites her to a food festival where she can use his kitchen to prepare food, and if people eat it, then he will forgive her for trying to change his. While people are slow to try her spicier cuisine, it quickly becomes a hit, earning her plenty of money and Marcello's respect.
Coming down from this high, however, she meets Vijay, who has followed her to Amsterdam when he found out she had left Delhi. He has decided that he wants her back when he realized she wasn't still crying over him.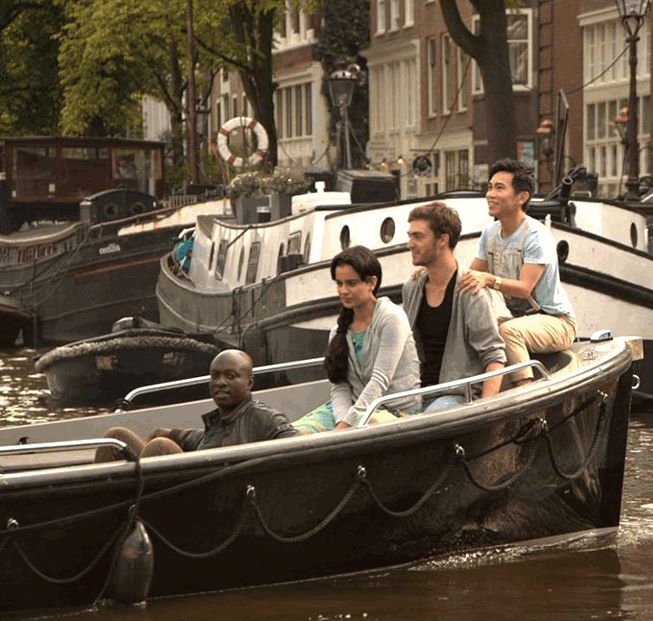 Tim, Rani, Oleksander and Taka having fun in a boat in Amsterdam
During the film, we have seen how they met and the way their relationship was prior to the marriage. It seems that Vijay was the one that aggressively pursued her originally. It is from that which the film gets its title "Queen", which is not only the meaning of "Rani", but what he also refers to her as, figuratively praising her. Once they became a couple, he became oppressive, not wanting her to take a job because it might seem that he couldn't provide for her. He is overtly concerned with how things appear to others and not with her happiness. The "difference" that led him to cancel the marriage was caused by him smothering the life in her that he had been attracted to at the start. We understand that Rani had actually been very lucky to avoid the marriage.
But now, Vijay wants her back. While they are talking on the street, we can see him bouncing back and forth between being romantic and dominating, even getting into a fight with Oleksander when the Russian tries to protect Rani.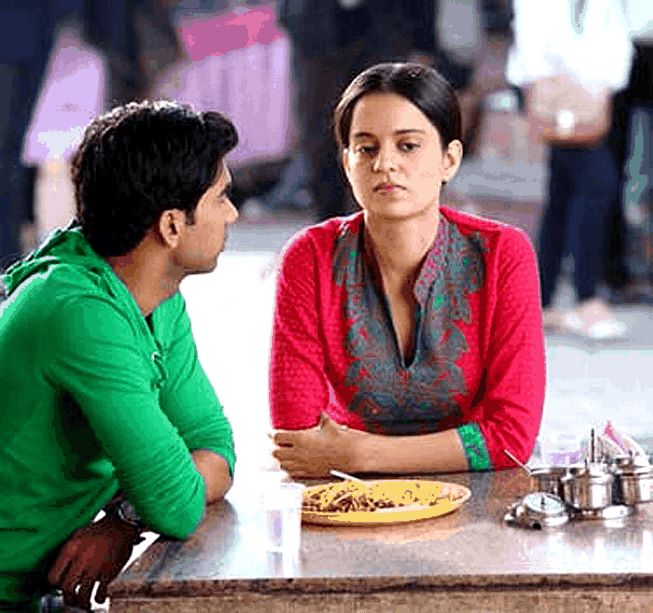 Vijay and Rani at a table, trying to work out their relationship
Rani agrees to meet with Vijay on the next day, her last day in Amsterdam, at a local cafe. It will also be the last day for her friends, and while they had planned one last shared adventure at a large rock concert, Rani knows she cannot do both, so they part ways after checking out of the hostel.
This is definitely a "feel good" movie, in that you follow a person from a bad situation in their life to a better one in the end. Unlike some shallow plots, however, we easily find a connection with most of the characters, and actually feel invested in their lives.
There are some very funny scenes in the film as well. When Rani is calling her family from Paris via Skype, they also get to see a very well endowed Vijay, and both Rani's father and younger brother are very interested. While in Amsterdam, the guys take Rani to a shop so she can buy gifts for her family, but she is unaware that it is a sex shop (having never seen any of the stuff before), and they are laughing at how she is interpreting the use for various items.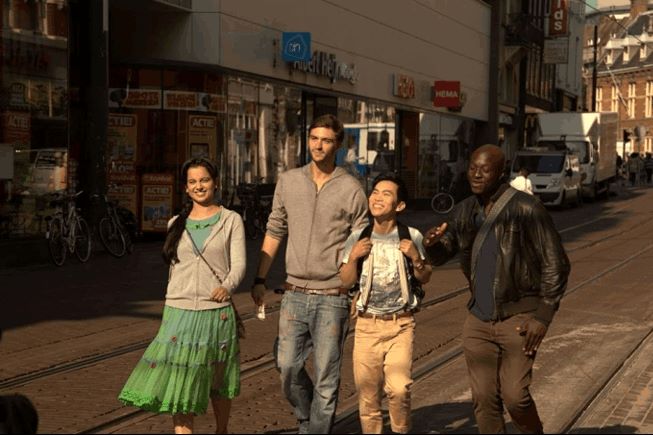 The four friends exploring the night life of Amsterdam
There is also plenty for language learners. Not only do we see Rani struggling with communicating with others without a common tongue, but there are also several languages spoken throughout the film, most notably Hindi and French, but also with English, Dutch and Japanese thrown in.
I really enjoyed this film, far more than I expected, and while the ending is rather obvious, it is handled beautifully. I can definitely recommend Queen as a film to see.