An American lecturer based in Germany suggested to me that many students participate in an exchange program in order to escape something, and that she wouldn't be surprised if a large percentage of those students suffer from some psychological imbalance. Another academic refers to Erasmus, the European Union tertiary exchange framework, as Orgasmus, highlighting the Contiki-like aspect of the experience. At the same time, many universities make study abroad a compulsory part of their programs. Whilst there is a recognition that study abroad offers a potentially rich learning experience, there also exists a fear that students engage in activities of questionable educational value. If teachers and parents hope for the best while fearing the worst, program organisers and providers advertise the positives: language gains, friends for life, becoming part of a new culture, being more attractive to future employers and so forth and so forth. Photos on the providers' advertising material do not hint at the potential challenges, or even strife students may actually encounter.
But first let's take a step back. Study abroad is nothing new. The 17th century Grand Tour was an opportunity for wealthy young men to travel Europe through different courts and great houses, for the purpose of creating connections with other European great families and to learn the dominant languages of the time. It was only in the middle of the XXth century that programs have been offered by professional organisations, going some way (though by far not all the way!) into democratising the practice. The catalyst to the creation of those organisations is to be found in the world wars and reflected the spirit contained in the adage "Lest we forget".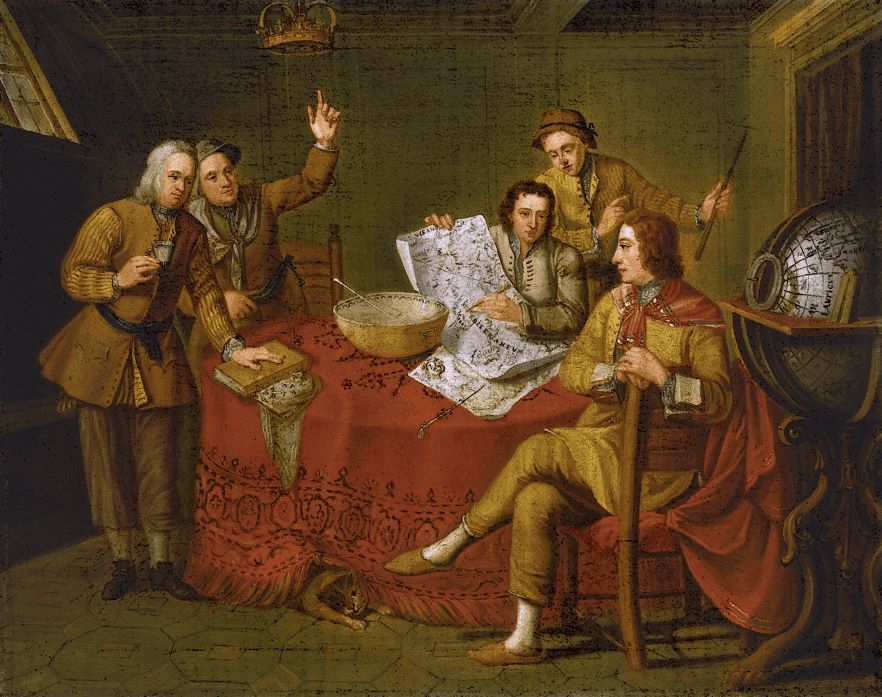 Men in the cabin of their ship while sailing on the Grand Tour.
Some of the most active study abroad program providers have started as a result of war time engagement. Air Field Service (AFS), for example, began as a group of American soldiers were experiencing the WWI French trenches. Youth for Understanding's humble beginnings are found in a church's effort to help young Americans and young Germans develop some cross-cultural understanding in the wake of WWII. One of Rotary Youth Exchange Program's main impetus was found with an airman's traumatic experience in Japan during WWII. Returning to his Australian home, his self-imposed new mission was to create more positive bonds between Australia and Japan. In Europe as well, the Office Franco-Allemand pour la Jeunesse (OFAJ – the Franco-German Youth Office) was created by president de Gaulle and Chancellor Adenauer to improve their relationship, as they were sharing the experiences of post WWII reconstruction hardship.
From their conception, it's obvious that study abroad programs have a humanistic, moral and ethical dimension. Did this spirit infuse the experience of all those who later took part?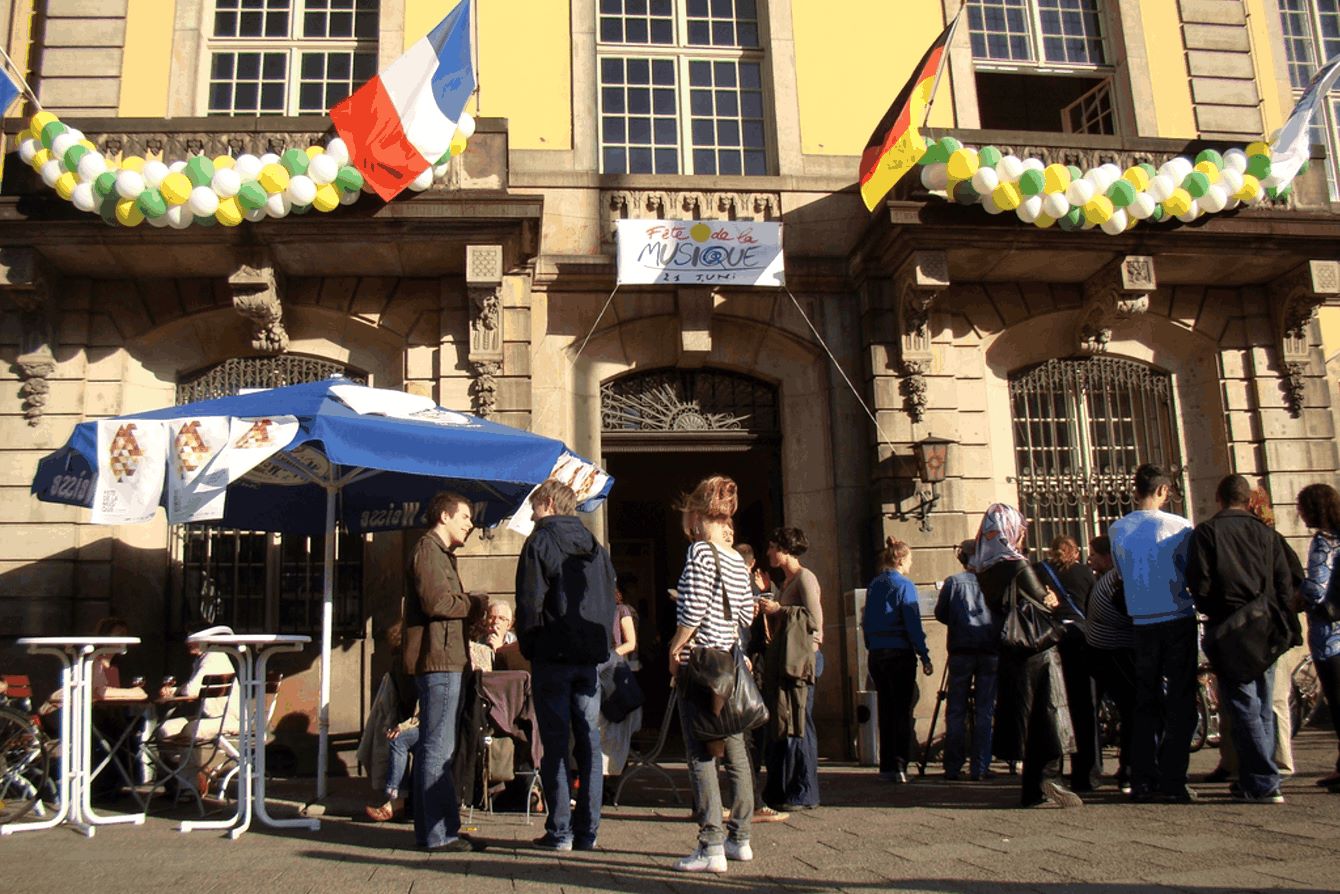 Music Festival at the Office franco-allemand pour la jeunesse in Berlin.
If literature is anything to go by, three biographical novels can help understand how students experience visiting a foreign country as a student.
The Japanese author Shusako Endo wrote "Foreign Studies" (1965), the first part of which tells the story of Kudo a young Japanese Christian who spends a term in Rouen, France. His stay was difficult, as pressure is put upon him to fulfil the unfinished missionary task of his host family's dead son. Kudo's welcome announces the challenges to come.
You will be able to see for yourself what a true Christian home is like. They have great expectations for you.
That terrible word expectation appears a number of times in the short story, a statement of power accompanied by a heavy dose of guilt upon Kudo's frail character. The power imbalance between the hosts and the visitor lead the hosts, who are obviously dealing with unresolved grief, to remain oblivious of Kudo's sensitive intelligence, and the complex culture he represents. Kudo's identity is thus not acknowledged, to the point that he is renamed Paul, after the family's lost son.
Kudo struggles to become more self-assured, as he feels particularly hindered by his inadequate level of French. Yet the permanent miscomprehension, the cultural gap between the parties allow the student to grow, as he gains insights in what he feels to be right and wrong. I find this representative of the reality. Some of my own students, who have reported difficulties in their host communities, also described how tensions with the host families forced them to develop certain coping strategies.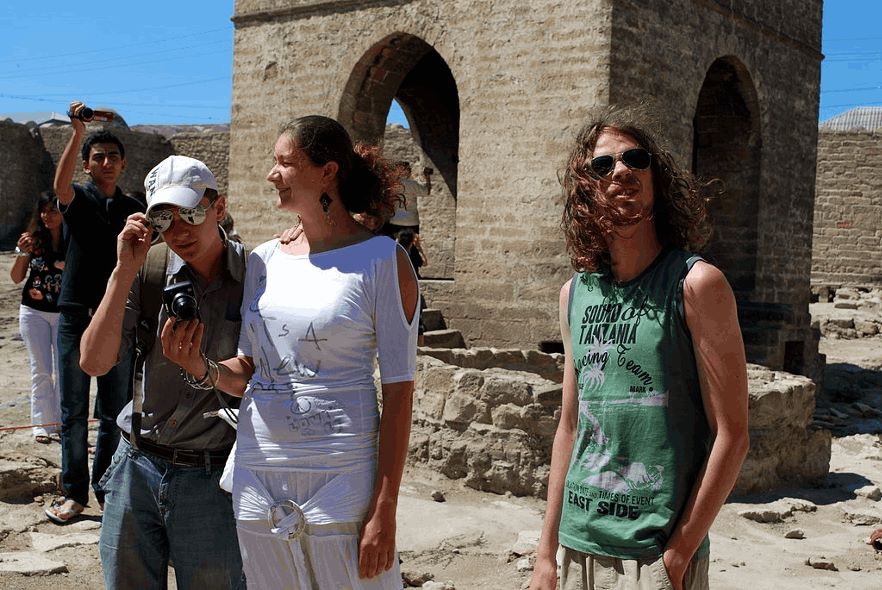 International students sightseeing ruins in Azerbaijan.
Another novel which questions the development of its main character's identity in a foreign setting is entitled "L'étudiant étranger" (1986, the foreign student), written by French author and media personality Philippe Labro. It is an autobiographical story set in Virginia. Labro, a funded international student in a small university in the 1950s, struggles to comprehend the contradictions he sees in the host culture, which promoted ideals of respect and gentlemanship steeped in racial segregation. Labro discovers his own prejudice during his stay in Virginia, falls in love with Virginia with all its contradictions and finds the limits of his sense of morality. In short, Labro's story is one of identification and successful acculturation.
As opposed to Kudo, Labro is comfortable with his identity as a foreign student. The locals accept Labro's foreignness. One of the key differences between the two characters is their level of language. Whilst Kudo perceives his own French as limited, Labro appears not to suffer similar doubts. A story about self-representation and identity negotiation that I find particularly speaking comes from Eva Hoffman, a Polish immigrant in Vancouver in the 50s, who wrote in her book "Lost in Translation: A life in a new language" (1989):
I am enraged at the false persona I'm being stuffed into, as into some clumsy and overblown astronaut suit. I'm enraged at my adolescent friends because they can't see through the guise, can't recognize the light-footed dancer I really am. They only see this elephantine creature who too often sounds as if she's making pronouncements.
If you ever conducted a conversation in a language other than your first, you would have felt this very unique level of frustration.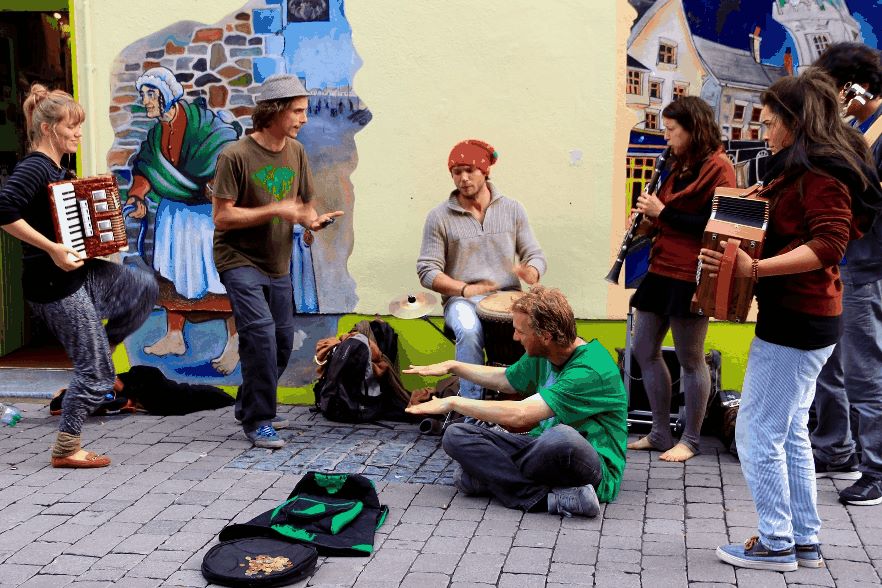 Travelling students enjoying street musicians in Europe.
More recent books have focused on a lesser introspective dimensions of the experience.
Brian Scott Ary, author of "Study Abroad Unauthorized" (2007), was very clear about his three motives for travelling to Spain: "Learn a little Spanish. Have a little sex. And go to Ibiza". Although Ary's words may not make the final cut on a YFU flyer, this less educational aspect of study abroad not only exists, but plays an important role in negotiating the challenges of study abroad experience. It's no secret that an outgoing personality helps make progress both in understanding the culture and learning the language. Academic researcher Allison Spenader, whose PhD thesis explored the experiences of four US teenagers in Sweden, would certainly agree with this. She found that her participants identified with the local culture much better when they adopted a positive attitude and participated in available activities. As a consequence of their engagement, those who participated learned the language to a higher level of proficiency than those who didn't engage.
The experiences described in the three novels above are vastly different from each other, and yet are recognisable aspects of what is taking place in study abroad.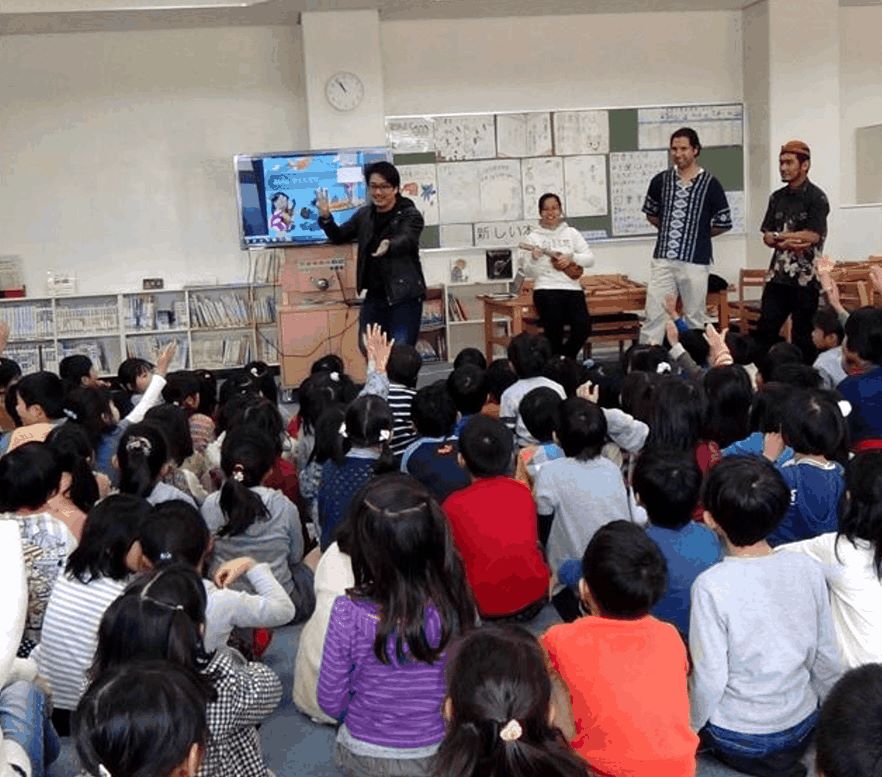 International students speaking to Japanese children in a Japanese elementary school.
What each of these novels offer is just a perspective. When you read them, you may be tempted to judge. Judge the hosts, judge the traveller. This is where you need to stop for a second. Study abroad is not about judgements, it is about understanding. Identity is not about a single person. It is about the negotiated role of a person in a context. Culture is not the characteristics of a person, but the result of a long evolving contact between people and their history.
Mobility is a very familiar concept to me. As an 11 year old, I spent three months in England, staying with non-French speaking relatives. Probably encouraged by the success of my first experience, my parents sent me to Germany for 6 weeks as a 16 year old. Toward the end of my high school years, I participated in a study tour to Prague. Later, I enrolled as a foreign student in Leeds university for 4 years, one of which was spent in Lyon teaching English (and meeting my Australian wife). I then moved to Australia, where I became almost immediately a foreign post graduate student. Finally, I became a language teacher and have sent small student cohorts from Australia to France every year for the past 9 years. It is because of all of these experiences, some of which list among my best memories and other among the worst times of my life (sorry Germany, nothing against you), that I became a language teacher and that I am involved in academic research in study abroad. Possibly the most important lesson that I have learned so far is that every single study abroad experience in unique and yet still highly comparable to all others.
I wanted to write this article to share some of my thoughts. What I didn't want to do is give advice. I will not tell you that you must go on exchange, that you will have a great time or that you will not. I won't tell you that you should go on a study abroad at a particular age. I will not even tell you that you ought to learn languages. All I hope is if you or your children ever consider taking part in a study abroad program, be ready to be surprised. And don't hesitate to email me about your experience!
Olivier Elzingre is a PhD candidate researching motivation and identity development in study abroad contexts. He teaches high school French in Australia. Correspondence to olivierrelzingre@gmail.com
Parrot Time is always looking for guest writers, so if you are interested in writing for us or donating something you have written for your own blog, please contact us at editor@parrottime.com. We look forward to your contributions!