When you think about Berlin, you may think about the Second World War, organization, or polite and organized people. But, for me and for many polyglots in our growing community, it is the city of friendship. Yes, every year, we meet over 300 people from all round the world to exchange knowledge, experience and practise languages. It is the Polyglot Gathering, organized by the talented team of Judith Meyer and Chuck Smith along with many marvellous volunteers.
In this article, I'm going to share some thoughts and reflections about this year's Gathering.
First, what is a gathering?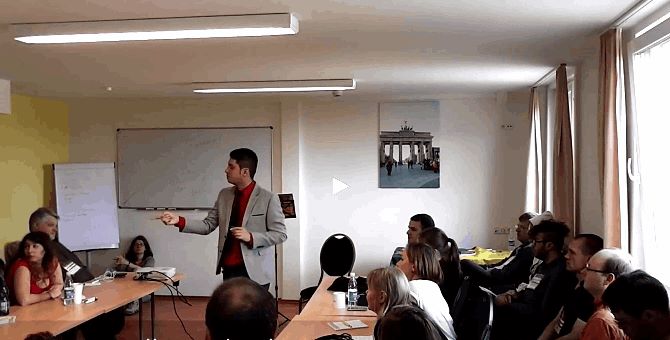 Jimmy Mello presenting at the Polyglot Gathering in Berlin, 2015
The talented polyglot Richard Simcott decided with other polyglot friends to create a Polyglot Conference, and the first one took place in Budapest, Hungary. This was the first step towards big events. Some very well known YouTube Polyglots attended the event, which lasted only two days. Besides lectures, it included some cultural activities. After the Conference, the German Polyglot Judith Meyer decided to create a similar event, but following a more informal, casual structure, inspired by the Esperanto events. So, in the year of 2014, the language of many polyglots really started to change. It's a polyglot version of "out of the closet" because from every part of the world, from Brazil to China, from Argentina to Japan, and including Italy, UK, Poland, Russian and many other countries, people came to attend. It started to bring out talented polyglots not as famous who, due to the gathering, got the chance to spread and inspire many others. Emanuelle Marinne, a talented polyglot from Italy, is just one example.
What is the purpose of this?
Well, after taking part in it twice, I consider it as my yearly meeting with my good polyglot friends, and as Berlin is quite central, it's easy for everybody to attend. During this year's gathering in 2015, the number of participants doubled that of the first one, and it is a perfect environment for networking, language practice, exchanging of materials and making new friends. We also get updated about languages in general.
Is is expensive?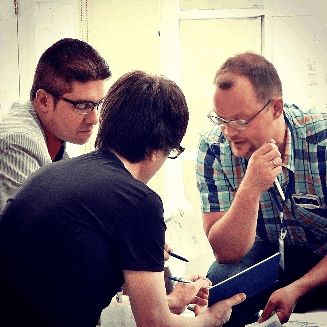 Gareth Popkins, Jimmy Mello and Ruslan Kokorin
Not at all! Everything is created to be affordable, it's a nice and convenient venue, and it's possible to share rooms with other participants and improve your relationships with your new friends. If you have a more introspective personality, you can share a room with one person or stay on your own. For a minimum extra charge, you get the breakfast, lunch and dinner (meat, vegetarian and even vegan), so it is definitively worthy investment in yourself.
Ok, I got I, but should I attend to this event?
Oh, if your are a language learner, enthusiast or polyglot, you should not attend - you must attend! This is the chance to show that we are a strong and friendly community, and that Polyglotism is not only available to a few of us. You have to stand up, and show that polyglots are real people, and we can inspire others.
Who usually goes to the Gathering?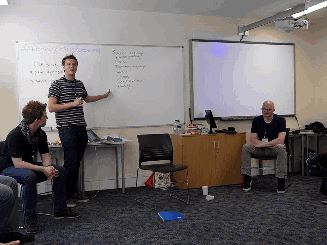 Polyglot Workshop in London with Olly Richards, Alex Rawlings (presenting) and Richard Simcott
Everyone from newbies, that is those who have just arrived and are starting right now to learn their first language, to experts, like the bestseller Benny Lewis from Fluent in Three Months, Richard Simcott, the organizer of Polyglot conference, Lindsay Dow, the blogger from Lindsay Does Languages, Jimmy Mello, the founder of Mello Method Organization and the presenter of the well known Polyglot Podcast and Television, My Polyglot, Olly Richards, the man behind I will teach you a language site and podcast, and others.
What sort of lectures, how long and how many are there simultaneously?
There are two auditoriums and some small classrooms, so usually you have to choose among them, but don't worry - the organization records everything and put them for free on the YouTube channel.
The lectures are about everything, as you will be able to see in the images of this article. We talks on subjects ranging from language researches to intro lessons from a language, along with mall but dense workshops, like one on Simultaneous Interpretation this year, delivered by Lydia.
Are there other events like this during the year?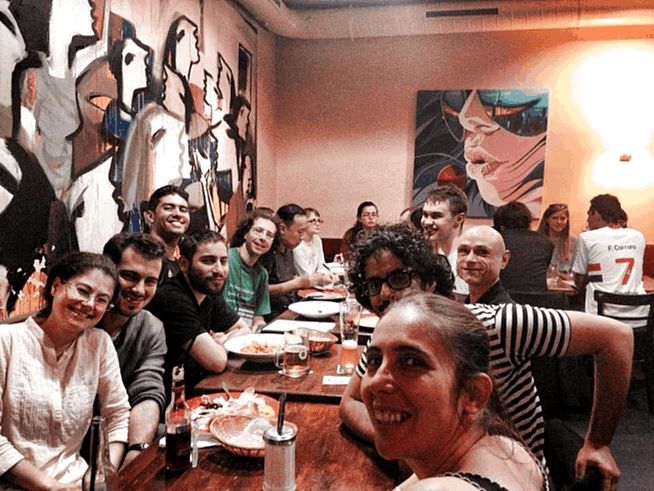 Various language lovers at the Polyglot Club
Yes. Though we have decided collectively and democratically to be in *****, for the sake of everyone the Polyglot Conference takes place in different places like Budapest, Novi Sad, and, this year, New York City. We have other small events like the Polyglot Clubs and Polyglot Workshop, taking place in many cities and hosted by many important polyglot.
During the gathering we have the opportunity to practice and improve our languages.
Polyglot Workshops and Secret of the Polyglots
Other events which happen every now and again are the workshops. Last July, I had the opportunity to attend the Polyglot Workshop in London run by Olly Richards, Richard Simcott and Alex Rawlings. This workshop happens during a whole day and is smaller than the Gathering, with usually around 20 people, which means that you can have direct contact with the specialists, ask them your own tailored questions, and take the answer from the source. This event is headed by Richard and Alex, but from time to time they have the company of other polyglots, as Olly in London, and I, Jimmy Mello in Belo Horizonte, Brazil. During the workshops, the speakers present the subject, but they invite you to take part in small groups, deciding and building the knowledge together.
It is a nice event to get in touch with other polyglots and language enthusiasts. As I mentioned before, this sort of event is the perfect tool to keep you motivated and in tune with your aims.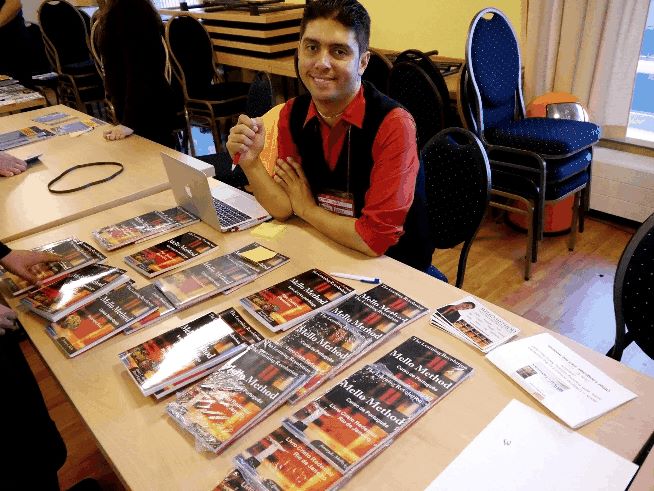 Jimmy Mello showing his goods at the Book Fair
On the other side, we have another, bigger event, but this one is held only in Poland and in the Polish language. It is usually cheaper than the Polyglot Workshops and is headed by the talented polyglots Konrad (Polish) and Marlon Ribeiro (Brazilian). Like the Workshops, they have other polyglot guests. The main difference between these events is that the first one has lots of practice and group activities and is more focused on polyglots, while the second is full of precious pieces of information, mainly focused on newbies. Unfortunately, I could not attend the Secrets of the Polyglots yet, but I had the chance to read their books. That is another difference - you can purchase this important material to follow after the event.
Finally, we have the Polyglot Conference, which is also headed by Richard Simcott, and this year, Alex Rawlings and Ellen Jovin will be joining him in running it. I haven't been to this event yet, but as I'm going to attend to the next one in NYC, I will be able to judge and give you my impressions. As far as I know, it is a little bit different from the Gathering, first because the presenters do not accept speakers; they choose them according to their own criteria. This year, it seems that it is an 80% North American event and is supposed to be more academic, even though some presenters have no academic background in this area. Another difference is the length, as it is only two days long, compared to the Gathering which is 4 and 1/2 days long. I'm really looking forward to attending it and better understanding their criteria.
As you can see, you are not alone. The polyglot community is really growing up and getting organized. I'm proud to be part in this nice community, and not only being there, but taking part actively. I strongly believe that we are responsible for a polyglot world, with fewer barriers and more respect. In our events, it doesn't matter the colour of your skin, your sexual orientation, your religion or anything else. It is supposed to be the best self-created community that really works.
Jimmy Mello is a neurolinguist and holds two degrees: one in Linguistics and other in Educational Science. He is a polyglot and has been learning and teaching languages for over 20 years. He is fluent in English, Spanish, Italian and Portuguese, and he can also speak Catalan, French, German, Dutch and Polish at different levels. He has developed a new method suitable for teaching any foreign language. He currently lives in Brazil where he runs his own language school, which he established in 1995. Find him at: www.mellomethod.com, www.mypolyglot.com, Twitter.com/jimmymello, and www.facebook.com/jimmymelloreal.
Parrot Time is always looking for guest writers, so if you are interested in writing for us or donating something you have written for your own blog, please contact us at editor@parrottime.com. We look forward to your contributions!