Like eggs, etymologies can also be scrambled sometimes.
When I started asking for translations of this month's word "egg", I was asked what kind I was referring to. Most of the time in English, we use "egg" to refer to a chicken, using other words to be more specific, like fish eggs, ostrich eggs, etc. It is the chicken egg word I am trying to focus on in this article.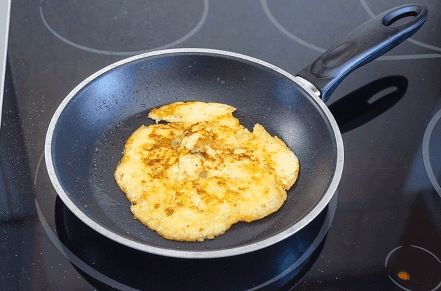 An egg omelette being cooked in a pan
In biological terms, an egg is "the female sex cell, or gamete." In zoology, the Latin term "ovum" is normally used to refer to the single cell, while the word "egg" can be applied to the entire specialized structure that consists of the ovum, its various protective membranes, and any accompanying materials. Personally, when eating eggs, I prefer NOT to think of them in this manner, but rather something a chicken laid.
The word "egg" in English comes directly from the Old Norse "egg". However, linguistically, it's the newer version in English. Prior to around the 16th century, English used the word "eye" (pl. eyren), from the Old English ǣg. During the 14th and 15th centuries, Norse immigrants brought in the word "egg", and for over a century, the two words were used interchangeably.
Both the Old English and the Norse words were actually taken from the Prehistoric German "ajjaz", which is the source of the German (Ei) and Dutch (ei).
The Slavic forms seem to also taken from "ajjaz", but slightly rearranged, as in Russian (яйцо [jajco]), Polish (jajko), and Serbian (јајe).
The Italic forms are taken from the Latin "ōvum", such as Italian (uovo), Spanish (huevo), Portuguese (ovo), and the French (œuf).
Surprisingly, the Prehistoric German and Latin forms, as well as the Ancient Greek "ōión" (now αυγό [avgo] in the modern form), come from a common Proto-Indo-European word: ōwo. This, in turn, may have from a base for "bird" in Ancient Sanskrit.
"Egg" as a verb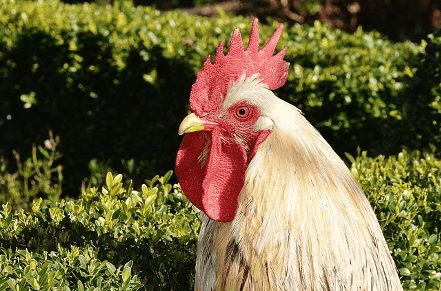 The mother of all eggs: the chicken
In English, we also use "egg" as a verb in some instances. The most basic is easily seen when referring to damage done when someone throws one of these little balls at a person's property. To "egg one's house" means, literally, to have thrown eggs at it, thus creating a horrible mess. This is a common prank. A more obscure reference is "egging a person on", meaning to push them verbally. "He wanted to stop, but his friends egged him on."
Slang
We use "egg" in several other manners. It can be a reference to someone who is immature, as a master might address his student as an "egg". This could have a fond or a contemptuous connotation. "Egg" is also used to refer to a person, as in him being a "bad egg" or a "good egg". It can also denote intellect, referring to a very smart person as an "egghead". When a person has made a mistake, or shown himself to be a fool, we say he "has egg on his face". When a person totally fails, they have "laid an egg".
A "nest egg" refers to something of value, usually a collection of money, to which someone is keeping safe. Another usage refers to a cause-and-effect dilemma: "Which came first, the chicken or the egg?" The idea is that a chicken is born from an egg, so an egg must have existed first, but if the egg came from a chicken, then a chicken must have existed first.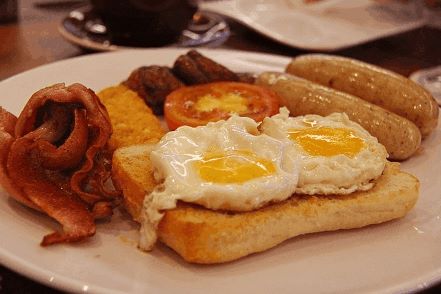 Traditional English breakfast of sausages, mushrooms, hash brown, bacon, eggs, and a tomato
Being literally minded, I always point out that eggs existed long before chickens, in the forms of insect eggs, fish eggs, and even dinosaur eggs. Also, since a chicken did not suddenly spring up in it's modern form, but rather evolved over time, one has to define what they mean by "chicken". It's about this time that the person's eyes have glazed over, or he has simply walked away in disgust.
Conclusion
All yolks aside, we cracked open this topic and found several twists and turns in the evolution of the egg, in more ways then one. I hope you found this educational and "egg-citing".