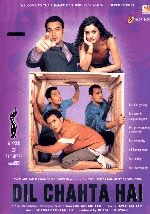 This month, I am reviewing the 2001 Bollywood film Dil Chahta Hai. It is about three inseparable friends who all approach, and find, love in their own ways.
I can start by saying this is one of my favourite films of all time. I first saw it somewhere around 2004 when a film channel was having a "Bollywood Month" and showed three films every week. This was among them, and I instantly loved it.
The three friends all are very distinct in personalities. Sameer is awkward and is constantly "falling in love", although he is absolutely clueless about how to deal with womae and usually ends up getting rather used by them. Akash treats everything as a joke and does not believe that people really fall in love. He considers any relationship a trap. Siddharth, perhaps the most mature of the trio, is an artist and prefers to paint then get involved in trivial relationships. He is looking for the "deep love".
The film is a true work of art, mixing comedy and drama so beautifully that you cannot help feeling for all the characters.
After they graduate from college, their lives seem to increase in intensity. After Akash engineers a break-up between Sameer and his current girlfriend (Akash is convinced he is helping him, and considering how controlling the girlfriend is, he might be), they take a trip to seaside Goa. While Akash flees the infatuatious pursuit of Deepa, a girl from their college, Sameer finds another girl who he "falls in love" with and tells the others he is going to stay in Goa a little longer with her, so the other two return home.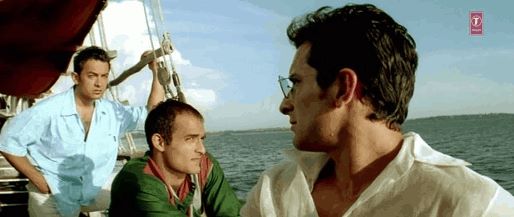 The three friends, having a good time together
Sameer's newest love turns out to be a thief who ties him up while her accomplice takes all his money, luggage, and passport. He manages to get a ride back home, where he relates the story to Sid and Akash, who immediately burst out laughing.
His troubles seem to worsen when he finds his parents have arranged a marriage for him, which he is completely against. However, after he meets the lovely Pooja, he is sure she is "the one". When he tells her he is against arranged marriages, she happily agrees, and Sameer discovers that she already has a boyfriend. He does not let that deter him, though, and begins to work his way into their lives.
Meanwhile, Sid has met and become romantically involved with Tara, an older woman who has moved into a nearby house. She has a tragic life story of an abusive ex-husband and it has left her an alcoholic. She loves Sid's paintings and she and him grow closer, but she is fearful of Sid's attachment to her.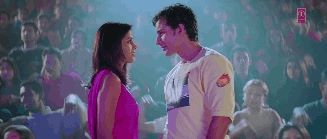 Sameer and Pooja, realizing their feelings for each other
When Sid professes his love for her to the others, his mother is shocked and considers it scandalous. At the same time, Akash makes fun of it, implying Sid is after something else and an offensive comment causes a rift between the two. When Tara finds out all of this, she feels she has ruined Sid's life and refuses to see him anymore. Heartbroken, Sid goes to his Uncle's house to get away from everyone and be allowed to paint in peace.
Akash has his own troubles. His parents decide he needs to mature and get some direction in his life, so they send him to Sydney, Australia, to take over the running of a branch of the families business. On his trip there, he meets Shalini, a girl from his college who he jokingly proposed to after graduation before getting punched by her boyfriend, Rohit, to whom she is now engaged.
Akash apologies to Shalini for his earlier prank, and asks her to show him around Sydney, where she is currently staying with her Uncle. She agrees, and they soon find they enjoy each other's company.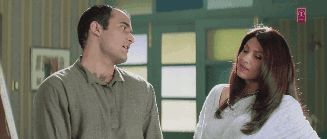 Sid and Tara, discussing Sid's paintings
They clash over the idea of love, however. While Akash claims that love is false, Shalini tries to convince him it is real and to get him to open up his true feelings. She finally has to return to India to marry Rohit, who is a controlling egotist she had agreed to marry to repay his parents who raised her after she lost her own parents. After she leaves, they both realize they are in love with each other and fall into depression.
When Akash's parents discover the emotional state of Akash, they have him return to India as well. When he returns, he finds out that Tara is in the hospital, her alcoholism having finally caught up with her. Sid and Sameer are there with her, but Akash refuses to join them.
What happens next? Will these three friends find the love they are seeking? Will they be able to put the past behind and become friends again?
The film is a true work of art, mixing comedy and drama so beautifully that you cannot help feeling for all the characters. It is much more modern than most other Bollywood films of the time and introduces some changes to the music and dance scenes, which are the hallmark of Bollywood films. About half the songs are integrated with the characters singing and dancing, the other half are done as music over the storytelling.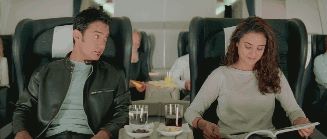 Akash and Shalini, meeting again on the airplane to Sydney
One example is the way Sameer and Pooja are shown to be falling in love. The two enter into a theatre, where they see themselves in the movie, singing and dancing, in the styles reflective of Bollywood cinema over the decades. It is a fun tribute and as they watch it, they realize that they really do love each other.
On the other end of the emotional spectrum, the song Tanhayee is sung over scenes showing how Akash and Shalini are lost and depressed without each other. We see them becoming unable to deal with the world around them, so great is their loss. It is the most emotionally charged song in the film, yet the characters never sing a note or dance a step.
The title translates into English as "What the Heart Wants", but the film is more commonly distributed as "Do Your Thing". I am terrible with remembering Bollywood film titles, but I always remember Dil Chahta Hai.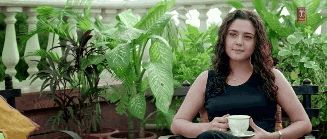 Preity Zinta, as Shalini
The language of the film is Hindi with the normal mix of English. As I often say in these reviews, this is not an action film. There are no car chases or explosions, and there only a few instances of fists being used. Although I do not really like the idea, I would say this is something like a "chic flick" for guys. While the female characters are critical to the plot, we really do not get to know them as much as the male leads, since the film is about them. Perhaps in that is my one minor complaint with the movie: there is not enough of Shalini, who is played by the beautiful and talented Preity Zinta.
I would definitely encourage anyone to see this film. It is funny, touching, and inspiring, and so I give it a firm 5/5.