Sweet milk! It is the first food among most warm-blooded creatures of the Earth. As babies, it is pure sustenance. As we grow older, it provides the nutrients to keep our bodies and muscles strong. We mix it with our coffee and tea, use it as a basis for our cheeses and yogurts, and even create our deserts with it, like milk chocolate and ice cream. One would have to truly call it the "drink of life."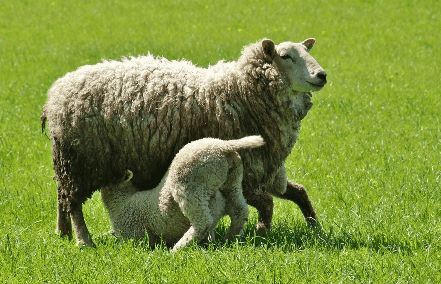 A young sheep, drinking milk from its mother.
We can get milk from most mammals. The English word "mammal" comes from the Latin word mamma meaning "breast", which is where milk comes from.
The word "milk" in English has its roots in an Indo-European word "melg" which meant "wiping or stroking." This was the method of getting the liquid from an animal's udders. The verb then got its meaning transferred to the substance it produces. This is how we still use the term... we get our "milk" from "milking" a cow. The "melg" got passed into the Germanic languages as "melk," which became the base "meluks." This led to most of the modern Germanic words: Dutch (melk), German (Milch), Yiddish (milkh), and Faroese (mjólk).
The root "melg" seems to have also been picked up in the Old Teutonic, which is often the root for the Slavic words. However, while it also transferred the "g" to a "k" sound, somewhere the "e" and "l" seems to have gotten transposed as well, as can be seen among the Slavic words: Polish (mleko), Russian (молоко), Croatian (mlijeko), and Kashubian (mlékò).
Among the Italic languages, a common root is normally found in Latin, and this is no exception. The ancient Latin root was "lac," which actually did refer to the substance. It gave us the Latin verb lactare, meaning "to suckle." From there, the modern derivatives can be seen clearly: Italian (latte), Spanish (leche), Catalan (llet), and Romanian (lapte). Notice that in most cases, the "c" was dropped. In a few, it was replaced by another letter. It is also interesting to note that while the shift in the Germanic and Slavic came from a verb into a noun, the Italic came from a noun into a verb.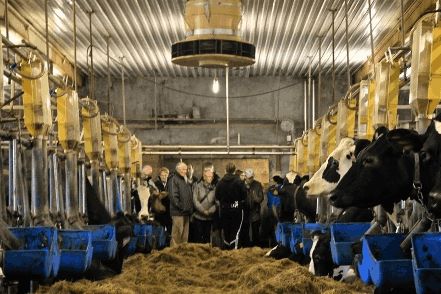 People observing the cows of a dairy farm, Varmakeldugarðurin ("The Hot Springs Farm"), on the island island of Eysturoy, Faroe Islands.
The word for "milk" in Old Irish was "lacht," taken from the Latin "lac" as well. "Lacht" is used now to refer more strictly to cow's milk. Old Irish "bannae" had the primary meaning of "drop," but then the meaning transferred to "drop of milk," then simply to "milk." From that, we get these Gaelic words: Irish (bainne), Manx (bainney), and Scottish Gaelic (bainne).
The Malay word "susu" originally meant "breast," and the expression "air susu" meant "breast water," or "milk." This later got shortened to simply "susu," with the meaning being transferred.
What is particularly interesting to note is that in some languages, the words for "milk" and "breasts" are related or identical, while in other languages, they seem to be totally unrelated. Some reasons for this could be meaning transfers, word "borrowing" from other languages, or simply drawing the words from two entirely different bases.
In English, "milk" can be used as both a noun and verb, with "to milk" being the process of getting the milk. This word similarity between noun and verb forms is ound in some languages and not in others. The words for "milk / to milk" are latte / mungere in Italian, leche / ordeñar in Spanish, Milch / milchen in German, melk / melke in Norwegian, and малако / малочны in Belarusian.
Related Derivatives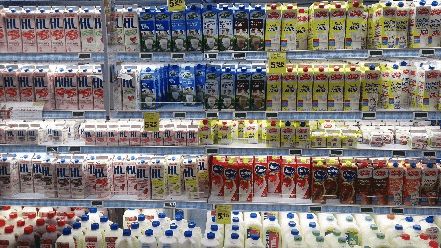 Shelves full of containers of milk in a supermarket.
The process of milk coming from a breast, "lactation," obviously has its root from the Latin "lac," which also shows again how English draws from so many sources; it draws "milk" from a Germanic origin, but "giving milk" from a Latin origin. A less obvious derivative is the salad standard "lettuce." It also comes from the Latin, and was given this connection because when one cuts into fresh lettuce, a white, watery, "milky" substance flows out. However, this connection is not drawn in most of the other languages.
Slang
Since milk is so close to our basic existence, a number of the slang terms refer to its purity. "Mother's Milk" is used to describe something that is wholesome. "Milk and Honey" is used to describe the richness of a land. When we make a big deal over something simple, we are told, "Don't cry over spilt milk." When we take advantage of a situation, usually one in which we shouldn't, we are said to be "milking it."
Conclusion
I was surprised at how direct the connections were between the modern words for "milk" and their origins. It only reinforces how important this liquid is to our lives and health, how much we cherish it. And I was also surprised I managed to write this article without making too many embarrassing references to breasts. I could have really milked those!