Marianna Debes Dahl
(24 November 1947 - )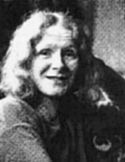 Marianna Debes Dahl is a Faroese writer. She was born in 1947 in Vestmanna and grew up in Tórshavn. She started attending a Danish boarding school when she was 12, then later spent a year as an exchange student in the USA. From there, she studied literature at the University of Copenhagen, then became qualified to teach on the Faroe Islands in 1975.
She worked for a few years as a school teacher, a college teacher, and a museum instructor at the Faroe Island's nature museum, the Føroya Nátturugripasavn.
Dahl started writing in 1975, creating works in a variety of different genres. She has written for all ages, from small children to adults, in the forms of short stories, novels, plays, travelogues, and translations of other works. She has also worked with the national Faroese Broadcasting company, Kringvarp Føroya, producing radio broadcasts along with translating and editing materials.
In 1978 she received the Barnamentanarheiðursløn Tórshavnar býráðs, which is a children's cultural prize of Tórshavn City Council, given out annually.
She held the position of president for the Association of Writers of the Faroe Islands from 1980 to 1981, becoming the first woman to do so. Dahl has also been chair of the association of writers, and from 1983 to 1993 was a critic for the communist newspaper Fríu Føroyar.
Dahl's first book was a children's book, Burtur á heiði, which she wrote for a competition and won. It focused on the contrast between rural and urban life, a theme she focused on in later works. Her main publications are Lokkalogi, published in 1984, Onglalag (1986), and Faldalín (1988). Dahl's historical novel, Vívil (1992), focused on the norms of capitalist society confronting socialist and female cultural values.