This month, another piece of language insight... bread.
Bread is one of the oldest man-made foods, and it has been made in various forms using a variety of ingredients and methods throughout the world. The major grains that have been used include wheat, rye, corn, barley, and buckwheat. These grains are combined with water, yeast, and other ingredients to form a dough which is then formed into various shapes and baked.
When trying to look at the history of the words for "bread", one has to take a step sideways and include another word. The original name of the food was "hlaf" in Old English, possibly from Old English "hlifian" meaning "to raise higher", referring to the rising of bread as it bakes. In Goth, the word was "hlaif", and in Old High German "leip".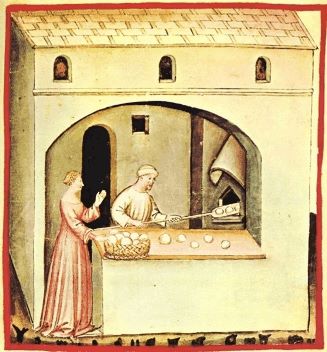 14th century image of bread being baked
From this reference we can now see how some of the modern words were derived. In the Slavic languages especially, one can see a striking similarity to the Old Teutonic "hlaibo-z", in the Bosnian (hljeb), Polish (chleb), and Russian (хлеб), to name a few. The Finno-Ugric words are also very close to this, with Estonian (leib), Finnish (leipä), and Saami (láibi). Sound shifts and glides between languages would change the "h" to a "k" and the "b" to a "p".
We can also see how we got our modern English word "loaf" by dropping the "h" and lengthening the "a". This is what I meant by our taking a step sideways. "Loaf" should have been the name of the food, based upon the old words. Instead, it is now a measurement. We say "a loaf of bread", rather than simply "a loaf". So, where do we get the word "bread" from?
"Bread", in Old English, meant "crumb, morsel", or simply "piece of food". Old Norse was "brot", and Old High German was "brosma" meaning "crumb". This is also the base for the English word "break". From there, it can be seen how a concept like "to break bread" could have linked the two words. Indeed, later, Old High German shows no clear distinction of meaning between "brôt" and "hleib". Through a shift of meaning, the food became associated with the piece, rather than the whole. What might have become "a bread of loaf" for a single slice became "a loaf of bread", meaning the whole. This explains the Flemish "brood", Danish "brød", and the Icelandic "brauð", among the other Germanic languages.
The Italic words, with a basic form of "pan" seems to be taken directly from the Latin "panis" for bread. Lewis & Short, in their A Latin Dictionary, point out that panis itself is derived from an older root, pa = 'to feed'. Similar words that relate to that are: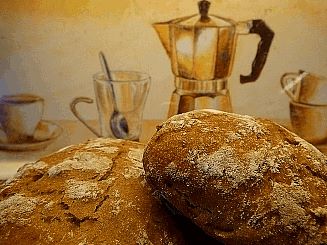 A couple of loaves of hard bread
Latin:
pabulum = food, nourishment, food for cattle, fodder, pasturage, grass
pasco, pascere, pāvi, pastum = to cause to eat, feed, supply with food
Greek:
πάομαι [páomai] = to get, acquire
πατέομαι [patéomai] = to eat

However, there is also the idea that the same meaning shift may have taken place in the Latin, with "panem" meaning "part of". Evidence of such a change can be seen in the Latin "pannus" meaning "piece of cloth". What a previous term for bread would have been is unknown.
Turning to the Altaic languages, we find the words "nan", "non", or "nun". This has been traced back to Old Persian "nagna", meaning "naked, bare". It's most likely a reference to the way the food was baked: uncovered in an oven, rather than covered in ash.
I will leave the other etymologies for the readers who are interested. If you have some knowledge about other origins, let us know.
Related Derivatives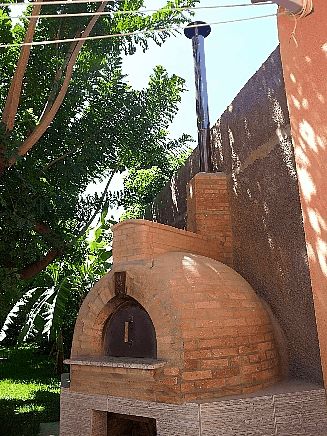 Large outside bread oven
We get other words from basic "bread". The word "pantry" comes from Latin, and means "office or room of a servant who is in charge of the food (literally, bread)". "Companion" comes from Latin "pan" and "com" (with) and means "bread fellow". The most interesting to me is "lady". It comes from the Old English "hlaefdige", meaning "mistress of a household". "Hlaef" of course is "loaf" and "dige" is "maid", thus "bread maid". Why this is of particular interest is that since "lady" would be the wife of the master or lord of the house, it became a term to refer to a woman of high standing, even though the term "maid" has been deferred to someone who is a servant.
Slang
Several terms have arisen over time involving bread. In English, "bread" and "dough" have the slang meaning of "money", such as "I haven't got the bread to buy that." or "I'm making lots of dough.". This is similar to the term "bread and butter", which refers to a person's basic needs. A "bread-basket" can also refer to a person's stomach. "Bread and circuses", from the early 1900's, is a slang for "food and entertainment" which was provided by the government to keep the population happy, and is actually taken from Latin: "Duas tantum res anxius optat, Panem et circenses".
Conclusion
Whether it's a bread of loaf, a loaf of bread, food for cattle, or simply nude food, bread has been a staple of the worlds diet for thousands of year. We eat it in many forms, from flat and salty to soft and round. We use it in our religious ceremonies, as wafers in communion, and in our festivals, such as buns for Fastalavn. And we use it simply as food, or even "wrappers" for food, as in sandwiches, pizzas, falafels, and as buns for hot dogs. It is perhaps our most versatile of foods, and is sure to always be a "piece" of our lives.