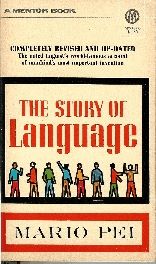 The Story of Language by Mario Pei
Language: English
Item Rating:






ISBN-10: 0452008700 ISBN-13: 9780452008700
Find it on Amazon UK

I have several books on languages in general. Some are very technical, some are almost too casual, and some are more showy than accurate. This book falls into none of these categories.
The late Mario Pei was born in Italy, but moved to the United States with his family at a young age. He wrote this book while serving as Professor of Romance Philology at Columbia University. At that time, he was capable of speaking thirty languages, as well as being acquainted with the sentence structures of more than 100 other languages. His knowledge comes through in his writings.
The Story of Language covers a lot of diverse grounds in an excellent mixture of scholarly writing with layman clarity. It's more serious then McWhorter's "The Power of Babel", but easier to comprehend then Chomsky's dissertations.
The chapters cover different aspects of language. In the first chapter, "The History of Language", theories of language origins, dialects, place names, and writing are discussed. "The Constituent Elements of Language" covers more of structure, including sounds, semantics, slang, and arrangements of words. "The Social Function of Language" covers how languages affect our daily lives in areas such as religion, family, literature, and superstition. "The Modern Spoken Tongue" delves more directly into comparisons of languages. "Problems of Language Learning" talks about "easy" and "difficult" languages, as well as methods of acquiring them. "An International Language" discusses translation issues and language dominance.
A few different versions of this book exist, both in hardcover and paperback. I have two paperback copies, one being the revised and updated edition of the other. The book is out of print, but can still be purchased used from many places. If you can get your hands on a copy, I encourage you to read it from cover to cover. You definitely won't be disappointed.