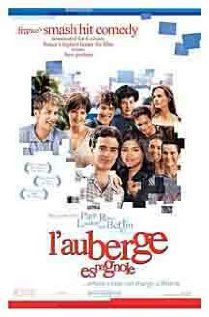 L'auberge Espagnole is a film by French writer and director Cedric Klapisch. It tells the story of Xavier, a French student who spends a year studying Economics in Barcelona via the Erasmus program. It follows his adventures of dealing with another culture, various affairs, and an apartment full of other students from all over Europe.
The movie itself doesn't have a straight forward plot or goal, which may confuse some people. Instead, it is more of a collection of scenes that show some of the stuff that Xavier and those around him deal with. Since life itself doesn't have a single plot, I found this setup to be more believable.
The movie itself doesn't have a straight forward plot or goal, which may confuse some people.
The name of the movie seems to cause confusion. It won an award at the 2002 Karlovy Vary Film Festival as "Euro-pudding", played in Spain as "Una Casa de Locos", in the UK as "Pot Luck" and in North America as "The Spanish Hotel" before finally settling on the title "L'auberge Espagnole", which is the Spanish version of the American title.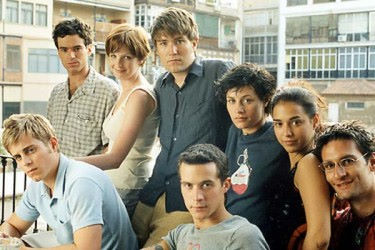 There are countless reviews of this 2002 movie, so I don't plan on doing a point by point review of its plots or events. Rather, I want to talk about why this movie is of interest to language learners and travelers. From the start, this is a French movie taking place largely in Spain, so both those languages are included. Xavier lives in an apartment with six other students, each from other countries, so add on English (British, not American), Catalan, Danish, German and Italian.
In regards to the other students, they are mostly stereotypes, which might upset a few people. I found the stereotypes to be funny and played off well against each other. One of the best scenes to show this is when Xavier is first interviewed to see if they will accept him as a new flatmate. You have the flatmates seated around the table, arguing over which questions they should be asking as well as explaining where they are from, while Xavier just looks on, thinking in his head (parts of the movie have him narrating in this fashion) how much he wants to be a part of them.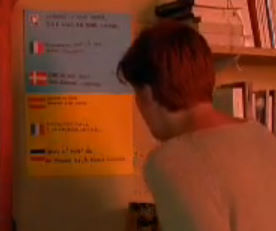 There are other scenes like this. One scene shows Wendy (the English woman) answering the phone in the apartment to find Xavier's mother on the other end. Not under­standing French, Wendy checks the wall by the phone which has a chart on it, showing various phrases, grouped by language. The humour in this scene is her misunderstanding the French for "university" (faculté). This highlights the confusion that can happen in a multilingual environment, in which many language learners have probably found themselves in, by choice or accident.
Another scene showing the dynamics of the flatmates involves the re­frig­er­ator. They have divided the re­frig­er­ator into sections for each flatmate, and there is some friction when anyone puts something in the wrong place. A quick scene later shows the re­frig­er­ator now in total chaos, with just the narrative "The re­frig­er­ator sorted itself out".
One of the main discussions regarding languages involves the clash between Catalan and Spanish in Spain. The Erasmus students are frustrated that their professor insists on lecturing them in Catalan while they are still just learning Spanish. When they ask him to use Spanish, he tells them it would be unfair to the other students (although they speak both Spanish and Catalan), and says if they want to speak Spanish, go to Madrid or South America.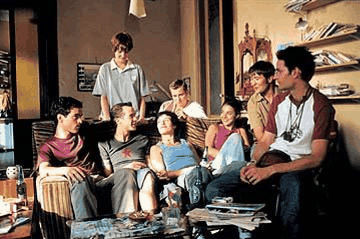 This follows up with a scene with Xavier and Isabelle (a woman from Belgian) talking to other students about identity, culture, and language. Isabelle later says it's a drag to be torn between two languages, and Xavier points out that Belgium has Flemish and Walloon, but Isabelle tells him that's not the same. She tells her she is Flemish, that she doesn't speak Walloon, and when she goes to Flanders, she tells them she is French so they speak French to her. Essentially, your own situation isn't strange.. just others.
There are numerous other scenes which show differences between the cultures and languages, so I would recommend this to anyone with an interest in either of those. It's also just a generally fun movie to watch.